Hamadeh: Syrian embassy should be closed if involved in abductions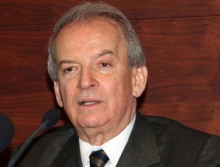 March 14 MP Marwan Hamadeh told Al-Jumhuriya newspaper in an interview published on Thursday that the Syrian Embassy in Lebanon should be closed if it was involved in the abduction of Syrian nationals in Lebanon.
"If is proven that the Syrian embassy was involved in these operations, then we should demand its closure," he said .
Hamadeh added that no treaties between Lebanon or Syria allow for "abducting citizens."
The kidnapping of Syrian nationals in Lebanon should be tackled by higher authorities, he stressed
Al-Jumhuriya newspaper reported on October 11 that Internal Security Forces Director General Achraf Rifi told the Parliamentary Human Rights Committee that "Lebanese security forces assigned to protect the Syrian embassy in Lebanon kidnapped four [dissident] Syrians using embassy vehicles."
According to local reports the kidnappers were led by Lt. Salah Ali al-Hajj, the head of the Syrian Embassy guard unit. Hajj is the son of Maj. Gen. Ali Hajj, Lebanon's former ISF chief who was held along with three other Lebanese generals for four years for alleged involvement in the 2005 assassination of former Prime Minister Rafik Hariri.