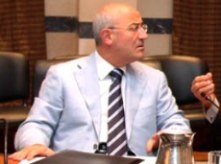 The weekly session of the Cabinet Wednesday saw a heated debate over the disputed transfer of funds from the Telecommunications to the Finance Ministry, as representatives of the Free Patriotic Movement and the Progressive Socialist Party clashed verbally over the issue.
Telecommunications Minister Charbel Nahhas, a representative of the FPM, has so far refused to transfer telecoms revenues to the Finance Ministry.
Nahhas' refusal came under fire from Public Works and Transportation Minister Ghazi Aridi. Aridi's criticism of Nahhas prompted the latter's colleague in the FPM, Energy Minister Gibran Bassil, to take up his defense.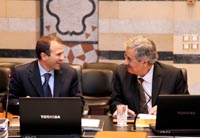 The lengthy debate, which took place during a session that lasted for more than six hours, saw Bassil snap back at Aridi and accuse him of spending funds on infrastructure works, particularly "asphalting roads," without the prior approval of the government.
Prime Minister Najib Mikati, who presided over the meeting held at the Grand Serail, didn't intervene to put an end to the debate and the session ended without reaching an agreement over the issue. However, ministers denied the argument had taken place when speaking to reporters as they left the meeting.
Wednesday's debate wasn't the first between members of the FPM and the PSP, who have disputed several ministerial resolutions recently, with the fiercest debate taking place over a proposal to develop Lebanon's electricity sector, based on a plan authored by Bassil.
Last month, PSP ministers refused to endorse Bassil's proposal without introducing amendments to the plan, a position that Mikati backed, fueling tension between the prime minister and the PSP on the one hand and the FPM on the other.