Kurdish PKK kills 24 Turkish soldiers on Turkey's border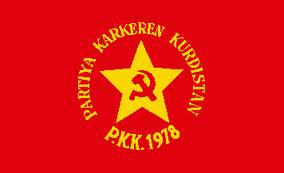 Kurdish militants killed at least 24 Turkish soldiers on Turkey's border with Iraq early Wednesday, in one of the deadliest attacks since the Kurdish Workers Party, or PKK, began its armed campaign almost 30 years ago.
Turkish special forces crossed into northern Iraq in hot pursuit of the guerrillas, while the air force bombed Iraqi territory from the air and the chiefs of Turkey's armed forces deployed to the border area.
The attack comes at a sensitive moment in the region, with Syria in turmoil, U.S. troops withdrawing from Iraq, and Turkey and Iran increasingly at odds. An estimated 25 million ethnic Kurds live divided between those four countries.
Speaking after an emergency security summit Wednesday, Prime Minister Recep Tayyip Erdogan said 24 "martyrs" were known to have died in the attack, while 18 had been wounded.
In a warning to domestic and foreign foes he said: "Whoever in secret or openly supports terrorism… the breath of the Turkish state will be on their necks."
Some 200 PKK fighters attacked military posts in Hakkari province, near the Turkish borders with Iraq and Iran, said a PKK spokesman, contacted by phone in northern Iraq. The attacks began at 1 a.m. and ended around 5 a.m. after fierce gun battles, some of which were captured on video by Turkey's Dogan News Agency.
The scale of the attack appeared to end hopes for a solution soon to Turkey's Kurdish conflict. The Turkish state had been in negotiations with the PKK's jailed leader, Abdullah Ocalan, until June, but the talks broke off amid escalating violence.
"Revenge for these attacks will be great and in multiples [of what the PKK did]," President Abdullah Gul said in remarks to reporters on television Wednesday. Turkey, he said "will do everything in its power to finish this."
A full land assault to attack PKK bases in the mountains of northern Iraq looks likely, analysts said. Earlier this month, Turkey's Parliament reauthorized the government to order such a cross-border attack.
Wednesday's attack drew condemnation from the U.S., as well as the European Union, the North Atlantic Treaty Organization (of which Turkey is an important member) and the Kurdish authorities of northern Iraq. The U.S. and the EU list the PKK as a terrorist organization.
"The United States strongly condemns this morning's outrageous terrorist attack against Turkey, one of our closest and strongest allies," the White House said in a statement that pledged to "continue our strong cooperation" to help Ankara defeat the PKK.
The U.S. provides Turkey with intelligence on PKK movements from drones flying over northern Iraq, as well as Cobra attack helicopters that, according to the PKK spokesman, were involved in Wednesday's hot pursuit.
More than 30,000 people are estimated to have been killed since the PKK launched its armed conflict in 1984. Ending the bloodshed would remove a source of political risk for Turkey's economy and secure Mr. Erdogan's place among icons of modern Turkish history.
However, previous land campaigns aimed at eliminating the PKK's estimated 4,000 to 5,000 fighters in northern Iraq, most recently in 2007-2008, have failed. And the risks involved are significant, according to people with long involvement in the Kurdish conflict.
"This thinking that first the weapons should silence and then steps should be taken is wrong," said Cevat Ones, former deputy undersecretary of Turkey's National Intelligence Organization, who worked on the PKK issue until 2005, in a recent interview. "It is not possible to solve the Kurdish question by military force."
Regional risks have grown as Syria's Kurds join unrest in that country and relations with Iran grow increasingly tense, analysts say. Turkey's decisions to drop support for the regime in Syria, Tehran's closest ally, and to host a radar for NATO's new missile defense system have angered Tehran.
Turkish media speculated in recent weeks that Iran is supporting the PKK against Turkey. PKK officials said they negotiated a cease-fire with Iran earlier this month, under which Iran agreed not to support Turkish efforts against the organization. Neither Turkey nor Iran have commented on the alleged deal.
Until recently, Turkey's government and Kurdish nationalists appeared to move closer. Mr. Erdogan and his government went further than any previous leadership to address Kurdish concerns: ending the state of emergency that had long paralyzed the region's economy, and introducing Kurdish language television for the first time and legalizing the teaching of Kurdish.
Mr. Ocalan and the PKK, meanwhile, no longer demand independence, but limited autonomy, plus Kurdish-language schools and Mr. Ocalan's release from house arrest.
Any perceived concessions to the PKK are political dynamite in Turkey, however. "These are crazy demands. No Turkish government, not even Ataturk if he were alive, could do that and survive politically," said Ibrahim Kalin, a top adviser to Mr. Erdogan, referring especially to Mr. Ocalan's potential release.
Mr. Erdogan threw his engagement policy into reverse over the past year, saying that Turkey had no Kurdish problem and that had he been in power when Mr. Ocalan was captured in 1999, he would have hanged him. Meanwhile, police arrested several thousand Kurds, including some elected mayors alleged to be members of a PKK-related organization for Kurdish nationalists.
—The Turkish air force has been bombing PKK bases in the mountains of northern Iraq, as well as in remote areas of southeastern Turkey, since late August, as PKK attacks accelerated. Last month, a Kurdish splinter group raised the stakes again, launching an attack against civilians in the center of the Turkish capital, Ankara, killing four.Ayla Albayrak contributed to this article.
On Tuesday, a roadside bomb in the mainly ethnic-Kurdish area of Bitlis killed five policemen in a passing vehicle, as well as four civilians, including children, in a vehicle behind it, Turkey's state Anadolu news agency reported. PKK militants again are suspected.
In a message passed through his brother Mehmet and published on Tuesday, Mr. Ocalan said the bloodshed was out of his hands and that it was up to the state to resume talks. "They will continue with this extermination policy for a while. But if they do not get a result, the negotiations may resume in the future. I do not know, but time will tell," he said in the message.
Wednesday's fighting, which came just hours before political parties in Ankara were to begin negotiations on the drafting of a new constitution for Turkey, is also likely to affect domestic politics. Mr. Erdogan in his comments ruled out involvement of any party that refused to call the PKK a terrorist group, something the main ethnic-Kurdish political party, Peace and Democracy Party, or BDP, has never done.
In a statement on Wednesday. The BDP didn't condemn the PKK attack. Instead, it blamed the government for sticking to positions the Turkish state has "been repeating for 25 years, which do not create solutions but insist on war."
The PKK said 100 Turkish soldiers were killed in Wednesday's operation, as well as five of their own fighters. The PKK spokesman said Turkish ground units had crossed the border at two points, and that fighting and aerial attacks continued in late afternoon.
WSJ