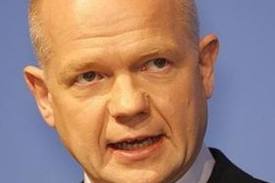 The British government has warned Syria it will not allow "harassment and intimidation" of its citizens living in the UK.
Foreign Secretary William Hague said he had summoned the Syrian ambassador on Thursday to express concerns about the actions of his embassy staff.
Police are investigating claims that diplomats took photos of anti-regime protesters in London and passed them on to their families back in Syria.
Mr Hague once again urged Syria's president to relinquish power.
Earlier this month, Amnesty International said Syrian diplomats in foreign capitals were mounting campaigns of harassment targeting expatriate dissidents protesting against the government of President Bashar al-Assad.
'Brutal regime'
In a statement to MPs on the events in the Middle East, Mr Hague said he had summoned Syrian ambassador Sami Khiyami to make it clear that such actions would be "unacceptable and will not be tolerated".
He called on the Syrian authorities to end their "appalling violence and repression" against its people which he said had led to the deaths of 2,900 civilians since anti-government unrest began earlier this year.
"Too much blood has been spilled for this regime to recover its credibility. President Assad should step aside now and allow others to take forward reform," he said.
Attempts by the international community to step up pressure on the Syrian government were dealt a blow earlier this month when China and Russia voted against further sanctions on the regime at the UN.
Mr Hague criticised their actions, saying they had "sided with a brutal regime rather than the people of Syria".
Libya fighting
Mr Hague also told MPs that UK military operations in Libya would continue as "long as is necessary" and as long they were requested by the country's new leaders, the National Transitional Council.
He said "intense fighting" was taking place in Sirte, one of the last strongholds of pro-Gaddafi forces, but once this ceased he hoped Libya's leaders would form a transitional government within 30 days.
He also outlined plans to tighten rules on UK arms exports which would enable ministers to suspend licences at an earlier stage if there was evidence they were being used for internal repression.
Concerns have been raised that British-made products, such as tear gas, have been used by the Bahraini authorities to suppress protest but Mr Hague said there was no evidence this had happened.
The foreign secretary also warned Iran that an alleged Iranian-backed plot to kill the Saudi envoy to the US would represent a "major escalation in Iran's sponsorship of terrorism".
The UK was in "close touch" with US authorities, he added, and would work with its allies in Europe and the Middle East to agree an international response to the charges, which Tehran denies.
BBC