Clash between Syrian troops, defectors kills 3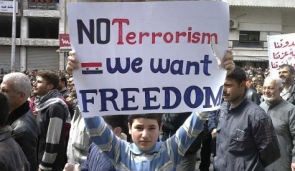 An activist group says clashes between Syrian troops and armed men believed to be army defectors in a northwestern town have killed at least three people.
The London-based Syrian Observatory for Human Rights says explosions and cracks of heavy machinegun fire could be heard on Thursday in Binnish, a town in Idlib province.
There have been clashes between the military and army defectors for months in Idlib.
The Observatory says at least three people died. Another activist group, the Local Coordination Committees, says there were casualties in Binnish but didn't give a number.
President Bashar Assad has responded to anti-regime protests that have gripped Syria since March with a fierce crackdown, which the U.N. says has left nearly 3,000 people dead.