Refugee: No young men left in Syria, only women, elderly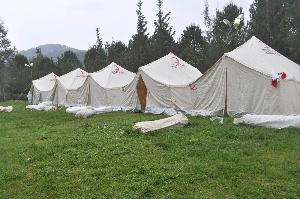 With one teenage son in a Syrian jail and another in hiding, 45-year-old jeweler Abu Mohammad knew President Bashar al-Assad's secret police were on his tail, so two weeks ago he said goodbye to his wife, shut his shop, and fled to Turkey.
Mohammad is just one of thousands of Syrians who have escaped across the border since the start of a bloody crackdown on anti-government protests by Assad seven months ago, and his story is not unique.
"I came because they started looking for me," Mohammad said, referring to Assad's security forces.
"There are no young men left in Syria, they are either in prison or have fled to other countries. Only the women and the elderly are left in the villages."
Since he left his home in Latakia on Syria's northern coast near the Turkish border, Mohammad has not spoken to his wife, he says, because the telephone lines have been tapped. His 13-year-old son is in hiding somewhere in Syria.
Mohammad said he had no choice but to escape after security forces arrested his other 16-year-old son during an anti-government protest, and tortured him.
"They took my child, and I have only been allowed to visit him once. His face was unrecognizable because of the torture they have inflicted on him. I was forced to flee to Turkey," Mohammad said.
MORE THAN 2,900 DEAD
On Thursday, the United Nations human rights office said the death toll in Syria had risen to more than 2,900 since pro-democracy protests began in March. Thousands more have disappeared or have been jailed, activists say.
Western journalists have been largely barred from Syria, and getting independent verification of killings and tales of brutal repression is difficult.
Assad's government generally denies reports of human rights abuses and says it has no choice but to restore law and order.
A balding man dressed in a t-shirt, trousers and rubber slippers, Mohammad appears somber but eager to unburden himself as he describes witnessing security forces gun down men and women in his hometown.
"I have seen with my own eyes a woman shot dead as she was hanging clothes outside her window. I have seen people shot dead as they walk out of the mosque after saying their prayers," he said.
"These people have no weapons in their hands, they are completely innocent people. The Syrian soldiers enter a village with their tanks and begin firing without any warning."
Mohammad has taken shelter in one of six government camps in Hatay, a panhandle province that juts into Syria and whose residents share cultural and ethnic links with their Arab neighbors'.
"THE WORLD SHOULDN'T BE SILENT"
As of this week, the Turkish government says there are around 7,600 Syrians living in the camps. Turkey does not refer to them as refugees, preferring to call them "guests," saying they are free to come and go as they please.
While the government has tried to keep media from entering the camps to protect the security of the inhabitants, Reuters was given rare access to one camp this week.
Home to around 1,000 people, the men, women and children in the camp sleep in tents erected inside a disused building, while tents outside serve as makeshift classrooms. Education is provided from primary to secondary level.
Inside one classroom, young children shout "Welcome, how are you?" in their newly-learnt Turkish. Teachers are drafted from the local area because many inhabitants of Hatay, once a part of Syria, speak both Turkish and Arabic. A picture of Turkey's founder Mustafa Kemal Ataturk hangs above their table.
But while children scream and run around a purpose-built playground outside, seemingly oblivious to their predicament, Mohammad and some of the camp's other men sit lined up on benches, bored and frustrated.
Abu Majid, 46, brought his whole family from Jisr al-Shughour in northern Syria after police started coming to his house everyday warning him not to take part in protests.
"When the protests started they came to my house every day and said 'if you take part in these protests, we will imprison you'. I got fed up and I came here," said Majid.
"The situation in Syria is very bad, just yesterday in Jisr al-Shughour the military was randomly shooting at people."
Activists and witnesses this summer reported security forces using tear gas and helicopters to fire at crowds in Jisr al Shughour and the United Nations has reported mass arbitrary arrests in the area.
Abu Sayf, a 24-year-old, university student from Latakia, who arrived at the camp around four months ago made a plea to the international community to stop the violence in his country.
"I came because Assad and his supporters are killing everyone, even boys, cows and donkeys," he said.
"The world shouldn't be silent. Gaddafi lost his legitimacy in 16 days in the eyes of the international community but for Assad in seven months nothing has happened."
Reuters