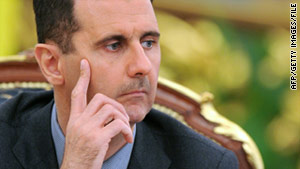 Syrian President Bashar al-Assad was quoted by his recent visitors on Sunday as saying that the "next phase in Syria may bring assassinations and planting of explosive devices in cars," Kuwaiti newspaper Al-Rai reported on Sunday.
The Syrian leader, however, said his country will know how to handle these threats and expressed his confidence that Syria can overcome the external and internal crises.
Assad also said he is not worried about the current economic situation. According to him, Syria has common borders with more than one Arab country, and they constitute an outlet for "popular trade exchanges". He also mentioned the existence of adequate reserves of wheat and other vital commodities. Assad also said the foreign exchange issue is not troubling.
Assad has completely closed the doors for any initiative, even by "our Russian friends." This is in accordance to the position adopted by the Arab initiative, which "refused to foreign intervention in domestic affairs."
Assad told his audience that "Syria will return to be the most important Arab state." He noted that Syria is not indifferent to the positions of Arab countries regarding what is happening in his country, "The relationship with some countries is not too bad while the other nations are preoccupied with their own situation". Hesaid
More than 50,000 mourners marched through the capital of Syria's Kurdish heartland Saturday in a funeral procession for one of the country's most prominent opposition figures a day after his assassination. Security forces fired into the crowds, killing five people, witnesses said.
The turnout was by far the largest in the Kurdish northeast since the start of the uprising against President Bashar Assad's autocratic regime seven months ago.
But it remains to be seen whether Friday's slaying of charismatic Kurdish opposition figure Mashaal Tammo will trigger a sustained, large-scale outpouring by Syria's Kurds that might bolster the wider uprising against Assad taking place across the nation.
Protests against Assad's regime began in mid-March. The Syrian regime has repeatedly blamed "armed gangs" for the unrest.
According to the United Nations, the Syrian regime's crackdown on protests has killed more than 2,900 people.