Syrian FM minister warns of reprisals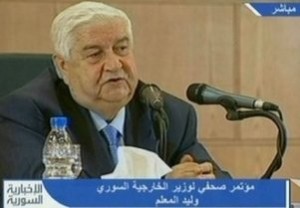 Syrian FM minister Walid Muallem warned of reprisals against countries that recognize Syria's opposition Transitional National Council.
During a press conference he warned that appropriate measures will be taken against countries that recognize TNC.
Muallem remarks come after 80 representatives of Syrian opposition groups met for talks in Sweden on Saturday in a quest to unify efforts to unseat autocratic President Bashar al-Assad, whose military has been trying to crush months of popular unrest.
The meeting included the chairman of the recently formed National Council, as well as representatives from inside Syria.
"The goal is to coordinate the efforts of the whole of the Syrian opposition in the face of this regime," organization chairman Bourhan Ghalioun told Reuters at the conference center in countryside outside the Swedish capital.
Protests against Assad's regime began in mid-March. The Syrian regime has repeatedly blamed "armed gangs" for the unrest.
The Syrian authorities have dismissed the opposition organizing outside Syria as a foreign conspiracy to sow sectarian strife.
According to the United Nations, the Syrian regime's crackdown on protests has killed more than 2,900 people.