MP Hamadeh: Aoun should fund STL from the money he stole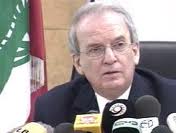 P Marwan Hamadeh said that Free Patriotic Movement leader MP Michel Aoun should fund the UN-backed Special Tribunal for Lebanon (STL) from the money he stole.
Local media quoted Hamadeh as saying that Aoun should "donate to the STL the money he stole"while serving as the country's premier during the Lebanese Civil War.
He also voiced hope that Prime Minister Najib Mikati would fulfill "his promises and commit" to the STL.
Aoun on Tuesday said that Mikati "does not have the right" to commit his government to funding the tribunal, adding that the premier should "fund the STL out of his own pocket."
Aoun on Wednesday said that Mikati "wrongfully vowed" that Lebanon will commit to providing its share of STL funding
"Mikati ignored the law and handled the issue while believing he can fund [the STL], but he cannot," Aoun told the Monte Carlo radio station.
He said that the premier's promises "should not bind the Lebanese state."
"There is no agreement between the Lebanese government and the UN Security Council concerning the tribunal." He said
In a reference to UN Security Council Resolution 1757 –which called for the creation of the STL – Aoun said that "the decision to establish the tribunal came from one side and was imposed on Lebanon under Chapter VII [of the UN Charter]."
"We do not want [the government] to provide its share of funding to the STL because we must not pay money we are not responsible for."
The Hezbollah-led March 8 parties – which currently dominate Lebanon's cabinet – have opposed a clause in the Lebanese annual state budget pertaining to the funding of the tribunal, while Mikati has repeatedly voiced Lebanon's commitment to the STL.
Four Hezbollah members have been indicted by the STL for the 2005 assassination of ex-Premier Rafik Hariri. However, the Shiite group strongly denied the charges and refuses to cooperate with the court.
Lebanon contributes 49 percent of the STL's annual funding.