Mikati denies visiting Syria secretly, update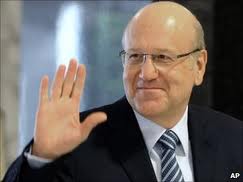 Lebanese Prime minister Nagib Mikati's media office denied a report published by al Mustaqbal newspaper that he visited Syria secretly.
The report by al Mustaqbal published on Tuesday revealed that Mikati visited Damascus Airport secretly and met with Syrian Foreign minister Walid Muallem and Rustum Ghazali former Syrian intelligence chief who was based in Lebanon until 2005 when Syrian troops withdrew under pressure after nearly 3 decades of military presence
Mikati's media categorically denied the report which it described as false and far from the truth stressing that the PM's visits to Syria will be official and will be announced before they are made
Update: Al-Mustaqbal newspaper quoted a source as saying : "Mikati travelled from Paris to Damascus on a private jet and met at the airport with Muallem Ghazali, after which he went back to France and then to Beirut."
"The visit was organized upon Mikati's request and its purpose was to discuss the PM's visit to New York and his meetings with US officials, as well as other matters," the source said and added that that Muallem asked Mikati to inform US Secretary of State Hillary Clinton that Syria is ready for compromises over Palestine and Iraq in return for reducing US and international pressure on Syria.
The news about Mikati's visit to Damascus comes amid reports that Mikati is due to hold a meeting soon with Syrian President Bashar Assad, who is facing growing international pressure over what activists describe as a brutal crackdown on pro-democracy protesters in his country.