Murr after meeting Suleiman: things are back on track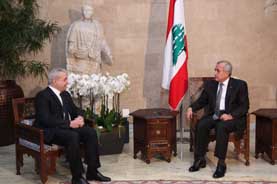 Former Lebanese Defense Minister Elias Murr met with President Michel Suleiman for the first time since New TV aired its "Truth Leaks" series earlier this year in which the former minister criticized Suleiman for his performance while he was the Army Commander.
According to National News Agency, Suleiman and Murr discussed the current political developments in the country.
Murr told An Nahar newspaper following the meeting " things are back on track and better than before "
adding , "we have been friends for 25 years."
"This meeting stresses our political and personal support to the policies undertaken by the president," An Nahar quoted him as saying.
A leaked U.S. Embassy cable dated May 13, 2008 revealed that Murr voiced his disappointment with the army's performance during the May 7, 2008 clashes, describing then Army Commander (Suleiman) as a "coward, cautious and conspiring".
following the meeting Suleiman criticized "media reports that don't necessarily reflect the actual ties between various political leaders and authorities."
"These reports instead reflect their writers' intentions to create disputes and they should therefore be disregarded in order to maintain Lebanon's unity and stability," Suleiman said.