Makari: Hezbollah is trying to invent excuses to keep its weapons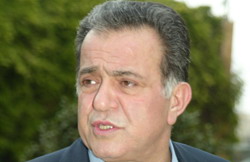 Deputy Speaker and March 14 MP Farid Makari said in an interview with Kuwaiti newspaper As-Seyassah that "Hezbollah is trying to invent excuses to keep its weapons."
"Sometimes Hezbollah tries to assume responsibility for protecting Lebanon's oil wealth other times it tries to pretend that its weapons are aimed at protecting coexistence," Makari said, adding, "Maybe Hezbollah thinks that the May 7 clashes served coexistence."
He is referring to May 7, 2008 when Hezbollah pointed its guns against the Lebanese citizens by occupying the mostly Sunni part of Beirut and by trying to occupy the Druze stronghold of Mt Lebanon
He also rejected in the interview that "the four people indicted by the Special Tribunal for Lebanon (STL) for killing former Prime Minister Rafik Hariri have nothing to do with Hezbollah."
Makari also said that "March 14 should not have attended the parliamentary vote of confidence session for the cabinet.
Mikati's cabinet, which is dominated by the Hezbollah-led March 8 coalition, was formed in June and granted parliament's vote of confidence on July 7.
Four Hezbollah members have been indicted by the UN-backed STL for the murder of Rafik Hariri. However, the Shiite group strongly denies the charges and refuses to cooperate with the court.