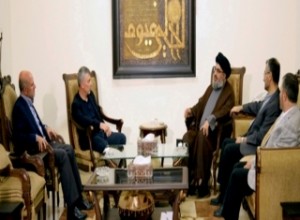 Hezbollah Secretary General Sayyed Hassan Nasrallah met on Saturday with Marada Movement leader MP Suleiman Franjieh.
Nasrallah's political aide Hussein Khalil and Franjieh's aide Yousef Venianus in addition to other high-ranking members of Hezbollah attended the meeting , Al Manar website reported.
The report added that the participants discussed the latest political developments in Lebanon and the region, and evaluated the cabinet's recent work, as well as its upcoming one.