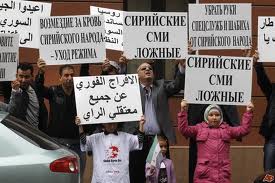 The Security Council is now divided over whether to even threaten United Nations sanctions against Syria.
The council met again Thursday behind closed doors to try to bridge divisions on what would be a first U.N. resolution condemning the government's six month military crackdown and calling for inclusive political talks.
But the Europeans and Russia remained at odds over mentioning the possibility of sanctions against President Bashar Assad's government.
The Europeans insist that if Syria doesn't comply with demands, including an immediate halt to violence and respect for human rights, the council should consider sanctions. But Russia's U.N. Ambassador Vitaly Churkin said Moscow is totally opposed to even mentioning the possibility of sanctions.
WP