Putin plots his return to Russia's presidency , Q/A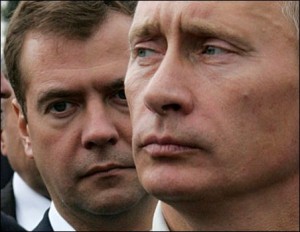 Russian Prime Minister Vladimir Putin has announced he wants to return to the presidency in an election in March.
Following are some details of his strategy and what the outcomes might be:
What is Putin's plan?
Putin announced to his ruling United Russia party on Saturday that he would run in the presidential election in March and proposed a job swap under which Dmitry Medvedev, who is now the head of state, would become prime minister. Medvedev also accepted Putin's proposal to head United Russia's list of candidates in a parliamentary election on Dec. 4 to try to boost the party's hopes of retaining its two-thirds majority in the State Duma, or lower house.
Why did Putin decide to return as president?
Putin regards his first presidential terms, from 2000 to 2008, as a great success. The economy boomed on the back of a rise in global energy prices and household incomes rose, Russia won back its self-confidence on the world stage and Putin brought order after the chaos of the 1990s. Critics say he did so at the expense of free speech, democracy and human rights. Although coming back as president in a more difficult economic climate could damage his record and affect how he goes down in history, Putin portrays himself as a guarantor of stability, and his actions and comments suggest he believes Russia still needs his firm hand on the tiller.
Why did Putin announce his candidacy now?
Putin and Medvedev had been under pressure to ends months of suspense over which of them would run in March because the uncertainty had deterred investors from putting money into Russia and there was a danger of political paralysis. They did not announce the decision earlier because of the risk of Medvedev becoming a lame duck as soon as it became clear he would not seek a second term. The proposal that he become prime minister could be intended to make him less of a lame duck.
Why is Medvedev not seeking a second term?
Putin has remained Russia's most influential politician under a power-sharing agreement with Medvedev since stepping down as president in 2008 because the constitution did not allow him a third successive term. This meant the decision on which of them would run in March was always going to be taken by Putin, regardless of whether Medvedev wanted a second term.
Aides say the two men get on well and broadly see eye to eye on policy. But senior political sources say Putin was worried by a perception that Medvedev would not have enough support among political and business leaders to force through tough political and economic reforms which many analysts say the next president will have to take. Other political sources suggested Putin simply did not trust Medvedev enough to allow him another six years as president and had been disappointed with his performance.
Will Putin win the presidential election?
Opinion polls suggest Putin will easily win the election, whoever the other candidates are. Although his ratings have declined, he still has almost 70 percent support in many polls. Likely rivals such as Communist Gennady Zyuganov and nationalist Vladimir Zhirinovsky cannot muster such support and mainstream liberal opponents such as former Prime Minister Mikhail Kasyanov do not have broad nationwide appeal. Kasyanov's party has been barred from taking part in the parliamentary election in December and he was unable to run in the 2008 election because the election commission said some of the signatures of support he collected were invalid.
Does it matter for the economy who is president?
Putin is widely seen as less liberal than Medvedev and some economists think he is less likely than his protege to carry out reforms, such as revamping the pension system and reducing Russia's heavy dependence on revenues from oil and gas which makes it vulnerable to fluctuations in global energy prices. Some say Putin's return to the Kremlin could usher in an era of stagnation and that a failure to carry out reforms would risk triggering civil unrest. Others see more of a difference in style than substance between Medvedev and Putin.
How will foreign policy be affected?
The president has had formal responsibility for shaping foreign policy under Putin and Medvedev's power-sharing agreement. Putin's return to the Kremlin could worry some Western governments because he has been more outspoken than Medvedev in his criticism of Western policy and a more strident defender of Russia' national interests than his protege. The U.S. government said on Saturday it expected progress in the "reset" of U.S.-Russian relations whoever was president. Independent analysts say relations are likely to be businesslike but less warm under Putin.