De Freige: Hezbollah's March 8 serving Israeli project in ME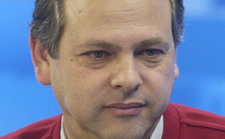 " It is the March 8 coalition that is serving the Israeli project and dividing the Lebanese people ," March 14 MP Nabil De Freige said in response to Hezbollah Deputy Secretary General Sheikh Naim Qassem's statement that "the March 14 parties are serving 'the US-Israeli project' in the Middle East."
De Freige warned Qassem during an interview with Future TV : "All the accusations of treason thrown by the March 8 coalition against March 14 will only lead to more political tension."
Commenting about Maronite Patriarch Bechara Boutros al-Rai's statements on Syria, De friege said:
"Let us be honest and admit that, in one way or another, there is a Sunni-Shiite conflict in the region and in the world. When Christians decide to support one sect against the other, then they would expose themselves to a threat from the sect they stood against," he said.
Rai urged that Syrian President Bashar al-Assad be given a chance to implement reforms, saying the "poor man cannot work miracles." He also voiced concern of a takeover by the radical Muslim Brotherhood, a movement . Raid warned that the fall of the Syrian regime threatens Christians across the Middle East.