Strong quake hits India, Nepal, China; 30 dead
The death toll from a strong earthquake that shook a Himalayan region straddling India, Nepal and China climbed to 30 on Monday as authorities tried to reach remote, mountain communities to assess the full extent of damage.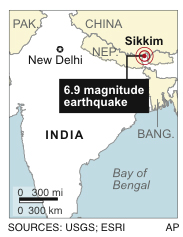 The 6.9-magnitude quake Sunday evening triggered landslides, damaged buildings and sent people rushing into the streets. The epicenter was in India's Sikkim state near borders with Nepal and China's Tibet region, but the shaking was felt across northern and eastern India and to the south in Bangladesh.
The quake killed at least seven people in India's Sikkim state and injured more than 50, said the state's top official, Chief Secretary Karma Gyatso. The north Indian state of West Bengal reported six deaths, and Bihar state reported three.
In China, at least seven people were confirmed dead and 22 hurt in southern Tibet, the official Xinhua News Agency said. It did not immediately give any details.
Nepal's government said seven people died there, including two men and a child who were killed when a brick wall toppled outside the British Embassy in the capital, Katmandu. Nearly 70 people were injured, some of them seriously, and were in hospitals across the city.
Much of the damage was not immediately known because the region is sparsely populated, with many people living in remote areas now cut off by mudslides triggered by the quake, Sikkim state police Chief Jasbir Singh told The Associated Press.
TV broadcasters showed footage of buildings buckled, sidewalks cracked and two major roads collapsed in Sikkim's state capital of Gangtok, 42 miles (68 kilometers) southeast of the quake's epicenter near the border with Nepal. The Indo-Tibetan Border Police said two of its buildings had collapsed in Gangtok.
Small army columns fanned out across the city of some 50,000 overnight to search for anyone pinned under fallen debris.
"We have sounded a high alert. Police are on the streets in Gangtok and other major towns," Gyatso said.
Electricity and some phone service was interrupted in the area.
Gyatso said paramilitary soldiers worked through the night Sunday trying to clear the national highway blocked at two places due to landslides.
Power lines snapped in the West Bengal cities of Darjeeling and Kalimpong, which "are now in total darkness," state Chief Minister Mamata Banerjee said, according to Press Trust of India.
Prime Minister Manmohan Singh summoned the National Disaster Management Authority for an emergency meeting.
The region has been hit by major earthquakes in the past, including in 1950 and 1897.
In neighboring Nepal and Bangladesh, the quake Sunday night sent residents rushing out of their homes, offices and shopping centers.
In Katmandu, members of Parliament who were debating the national budget ran out of the assembly hall into a parking area. They returned 15 minutes later and resumed their session.
The quake was also felt as far as the Indian capital, with New Delhi residents also rushing out of shaking buildings. The quake caused some houses in China's Himalayan region of Tibet to collapse and disrupted a border county's telecommunications services, Xinhua said.
There were at least two aftershocks of magnitude 6.1 and 5.3, Indian seismology official R.S. Dattatreyan said. He warned more aftershocks were possible.