Israel is in serious diplomatic trouble
Diplomatically embattled Israel is in serious trouble now — It is fighting separate diplomatic battles with three important regional players — Turkey, Egypt and the Palestinian Liberation Organization (PLO).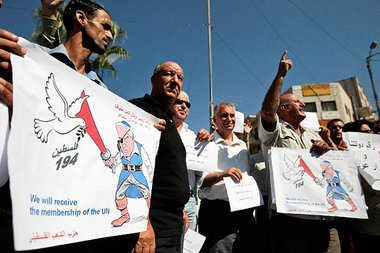 The Jewish state and Turkey, once one of its most important partners in the Middle East, have been locked in a bitter diplomatic dispute since May 31, 2010, when Israeli commandos raided Mavi Marmara, a humanitarian aid flotilla heading for Gaza, killing eight Turkish nationals.
The war of words escalated into a serious diplomatic row as Israel later only voiced "regret" over the killings while Turkey insisted on a formal apology and compensation for the bereaved and injured.
Following the downgrading of diplomatic relations to the level of second-secretary and the suspension of military cooperation with Israel, earlier this month Turkey expelled the Israeli ambassador and froze military ties and defense trade deals.
On Thursday, Turkish Prime Minister Recep Tayyip Erdogan said in Tunis that Turkey-Israel relations would not be normalized unless Israel apologizes over the incident and compensates the families of the victims.
On Saturday, Turkish Foreign Minister Ahmet Davutoglu took a further step, rejecting mediation offers from the United States.
In Egypt, the first Arab nation to sign a peace treaty and establish diplomatic ties with Israel, anti-Israel sentiments have been running high after having been repressed for 32 years, since the downfall of former President Hosni Mubarak in February.
The sentiments flared up in August after Israeli forces killed five Egyptian police officers when chasing Palestinian militants along the border. On Sept. 9, several thousand protesters gathered in front of the Israeli embassy in Cairo, with some breaking into the compound.
Bilateral ties soured further when Egyptian Prime Minister Essam Sharaf said in an interview with the Turkish TV Thursday that the Camp David accords, on which the peace between Egypt and Israel was built, isn't sacred but subject to changes.
Since the declaration of its statehood in 1948, Israel has been seeking recognition from the Islamic world.
But with the rapid deterioration of Israel's ties with two of its strategic allies in a matter of a few months, the so-called "strategic triangle," which Israel has been struggling to maintain in the region for years, is out of balance in the blink of an eye, giving rise to great dangers that anti-Israel sentiment could spiral out of control in the whole Middle East and beyond.
Israel's diplomatic headaches with the two countries are further compounded by a diplomatic triumph for the PLO, whose leader Mahmoud Abbas has reaffirmed his resolve to press the UN Security Council for recognition of a Palestinian state by seeking full UN membership.
In theory, chances are slim that the Palestinians will realize their goal within the UN framework, because the United States, Israel's natural ally, holds the power of veto. Nevertheless, the PLO has practically notched up successes. According to the political movement, at least 160 UN members have voiced support for its bid for full UN membership as an independent state.
Some analysts say it is Israel's own behaviors and policies that have landed it in a diplomatic predicament.