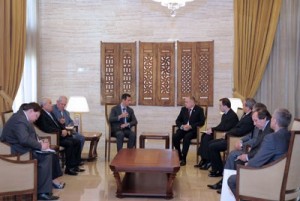 Syrian President Bashar al-Assad on Sunday praised Moscow's "balanced" position on Syria, in talks with a Russian delegation on a mission to help end the government crackdown on anti-regime protests.
Assad welcomed the "balanced and constructive Russian position toward the security and stability of Syria," the state-run SANA news agency reported.
It said Bashar denounced "attempts to destabilise Syria through armed terrorist operations, both civilian and military," and warned against "any foreign intervention that threatens to divide states in the region."
Assad's government blamed the protests that began on March 15 on "armed terrorist gangs."
Russia has continued to support Assad despite the crackdown on protests that the United Nations estimates to have killed around 2,600 people, and has been a bulwark against any Security Council resolution condemning the regime.
Ilyas Umakhanov, deputy head of Russia's upper house of parliament, the Federation Council, held discussions with Assad that were "open, trust-based and substantial," Russia's Interfax news agency said.
"It confirmed that the country's leadership understands that one can only overcome a political crisis by uniting all the country's healthy political forces."
"We once again saw for ourselves that the country's leadership intends to firmly move along the path of political reforms, create all the necessary conditions to consolidate society and all the patriotic forces of the country," the Russian senator was quoted as saying.
The Russian delegation also is due to meet parliament speaker Mahmud al-Abrash, and plans to visit the flashpoint town of Daraa and opposition cities of Homs and Hama, according to Interfax.
The Russian delegation arrived on Saturday to try to initiate a dialogue between the government and opposition.
The opposition, meanwhile, called in Damascus on Sunday for the continuation of popular protests to overthrow the "tyrannical."