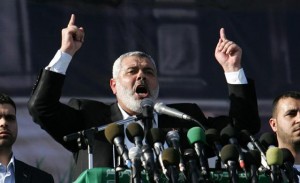 The Islamist Hamas movement said on Sunday that it does not support a Palestinian push for UN membership based on 1967 borders and wants the United Nations to recognize a Palestinian state on all of historical Palestine, including the land that is now called Israel.
The call came as Palestinian president Mahmoud Abbas flew to New York to submit a request to the world body for membership of a Palestinian state on the lines that existed before the 1967 Six Day War.
Hamas leader Khalil al-Hayya, speaking at a meeting of the Palestinian legislative council in Gaza, which is controlled by the Islamist group, said that proposal did not go far enough.
He called on the council to "apply for recognition of a Palestinian state on all the Palestinian territory and confirmation of the right of Palestinians to live within the borders of this state."
"We appeal to the UN to invalidate the entity that took the decision to establish itself on the land of another," Hayya said, in reference to Israel, at the meeting which was attended by Hamas's prime minister in Gaza, Ismail Haniyeh.
Hayya called on the international community to "apply pressure to ensure the implementation of international resolutions, particularly those that uphold the right of the Palestinian people to self-determination."