Israeli PM predicts Palestinian statehood bid will fail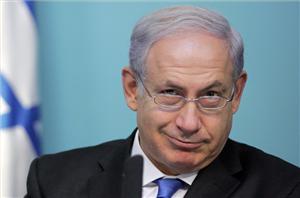 Israel's prime minister predicted on Sunday that the Palestinians' quest for U.N. membership would fail because it bypasses negotiations with the Jewish state, and said he was working close with Washington to ensure the statehood bid withers in the Security Council.
Benjamin Netanyahu put the blame for stalled negotiations squarely on the Palestinians, who are skeptical of his commitment to peacemaking and have refused to return to the bargaining table without an Israeli freeze on settlement construction.
"The truth is, Israel wants peace, and the truth is, the Palestinians are doing all they can to torpedo direct peace talks," Netanyahu told his weekly Cabinet meeting.
"They must understand that despite the current attempt to bypass negotiations again by going to the U.N., that peace is achieved only through direct negotiations," Netanyahu added. "Their attempt to be accepted as a full member of the U.N. will fail."
Palestinian President Mahmoud Abbas said over the weekend that he would submit his bid for full membership to U.N. chief Ban Ki-moon in New York on Friday, during the annual General Assembly session in New York.
Netanyahu said there was "close cooperation" with the U.S. to make sure the Palestinians' bid is shot down in the U.N. Security Council, the powerful body that must approve a membership bid. The U.S. has threatened to veto the move if it wins backing from nine of the Council's 15 members — something Washington is trying to prevent.
That would leave the Palestinians with the option of seeking a lesser status of nonmember observer state at the General Assembly, a forum where they would expect to win the necessary simple majority of those present and voting.
Although that would be a largely symbolic victory, the Palestinians hope to use their elevated status on the international stage to press Israel for concessions in any future negotiations.
Netanyahu said he was traveling to New York with two goals: to block the statehood bid at the Security Council and to present "our truth."
Shortly before Netanyahu spoke, a close ally, Cabinet Minister Moshe Yaalon, told Army Radio that "we don't have a partner for peacemaking." It was not clear whether Yaalon was expressing a personal opinion.
AP