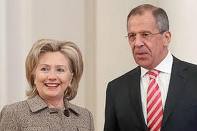 Top Russian and US diplomats have discussed their differing positions surrounding a Palestinian bid for recognition as a state at the United Nations, the foreign ministry said on Saturday.
US Secretary of State Hillary Clinton on Friday phoned her Russian counterpart Sergei Lavrov to discuss "certain issues of the Middle East situation," including a Palestinian bid to win UN statehood, the Russian foreign ministry said in a statement.
The statement did not provide further details.
Russia this week said it would vote in favour of the controversial move while the United States renewed its opposition to Palestinian president Mahmud Abbas' plan.
Abbas vowed Friday to lodge a bid for UN membership before the UN Security Council in one week.