Lebanon has no ministry of Foreign affairs, says MP Fatfat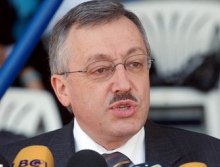 March 14 MP Ahmad Fatfat said on Saturday that Lebanon does not have a Ministry of Foreign Affairs, adding that the latter "is a kind of farce" and "belongs" to the Syrian Ministry of Foreign Affairs.
He also said that if the Syrian regime falls, the Lebanese cabinet "will be shocked."
"There was stupidity in the meeting of Arab ministers of foreign affairs," Fatfat told the Free Lebanon radio station in reference to the Arab foreign ministers meeting in Cairo last month during which it demanded an end to "the bloodshed" and called for "immediate change" in Syria, but Lebanon's envoy to the meeting, Foreign Minister Adnan Mansour, did not vote in favor of this decision and instead he supported the position of the Syrian regime.
Similarly MP Amin Wehbe said last Thursday that "he is ashamed that the Lebanese Foreign Ministry has become a department in the Syrian Foreign Ministry."
" Foreign Minister Adnan Mansour acts like the shadow of Syrian Foreign Minister Walid al-Mouallem , which is humiliating and shameful for Lebanon," Wehbe told Al Sharq radio.
Commenting on payment of Lebanon's share of funding for the Special Tribunal for Lebanon (STL), Fatfat said most of the ministers are against the issue.
"The decisions of the cabinet are in the hands of Hezbollah Secretary General Sayyed Hassan Nasrallah and Syrian] President Bashar al-Assad." He said