Mansour: Lebanon will oppose UN resolution condemning Syria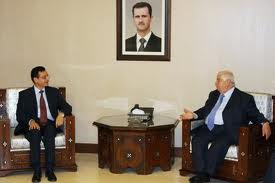 Minister of Foreign Affairs Adnan Mansour told Sawt al-Mada on Saturday that Lebanon will not approve a UN Security Council resolution that condemns Syrian .
"Even Russia will not accept a resolution, the way the West wants it, against Syria" Mansour said
He also said that the security situation in Syria is better than how it was five months ago.
Syrian President Bashar al-Assad's troops have cracked down on protests against almost five decades of Baath Party rule which broke out mid-March, killing over 2,600 people according to the UN Human Rights Committee, and triggering a series of sanctions by the US and EU.
March 14 MP Amin Wehbe said last Thursday that "he is ashamed that the Lebanese Foreign Ministry has become a department in the Syrian Foreign Ministry."
" Foreign Minister Adnan Mansour acts like the shadow of Syrian Foreign Minister Walid al-Mouallem , which is humiliating and shameful for Lebanon," Wehbe told Al Sharq radio.
STL
Commenting on the funding for the Special Tribunal for Lebanon (STL), Mansour said that Lebanon will not evade international decisions, adding that the cabinet must take a decision regarding paying Lebanon's share of STL funding .
More than one international party informed President Michel Suleiman, Prime Minister Najib Mikati, Speaker Nabih Berri as well as other concerned figures that not paying Lebanon's share of funding for the Special Tribunal for Lebanon will subject Lebanon to sanctions, An-Nahar newspaper reported on Friday
The Iranian and Syrian backed Hezbollah-led March 8 coalition which dominate Lebanon's cabinet has opposed a clause in the Lebanese annual state budget pertaining to the funding of the tribunal.
The tribunal was created by a 2007 UN Security Council resolution, at Lebanon's request, to try those responsible for former Prime Minister Rafik Hariri's assassination. He was killed in a suicide car bombing on February 14, 2005.
Lebanon is required to contribute 49 % STL's annual budget
Future Movement official Mustafa Allouch said in remarks published Friday that March 14 MPs "intend to present a draft bill to the parliament that calls for paying Lebanon's share of STL funding
Four Hezbollah members have been indicted by the STL. However, the Shia group strongly denied the charges and refuses to cooperate with the court.
Expatriates
The FM added that a file pertaining to the issues of expatriates' voting will be submitted within days to the cabinet to be finalized.