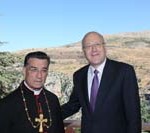 Following his meeting with Maronite Patriarch Bechara Boutros al-Rai on Friday, Prime Minister Najib Mikati said that Lebanon does not benefit from taking part in regional axes of conflict
"There is no benefit for Lebanon to take part in regional axes of conflict … and we agree with the Patriarch that there are fears over attempts to divide the Arab world into sectarian statelets," Mikati said in a statement issued by his office.
Mikati also said that the Lebanese people "should be united in order to foil any plan targeting the country."
"We are all citizens. We are not majorities or minorities," Mikati added.
He also said that the Sunnis represent the majority in the Arab world. However, he added that "the perception of extremism should not be generalized," a reference to not labeling the Sunnis as extremists.
"In Lebanon, the Sunni partners have contributed to the country's independence… and if it were not for them, there would not have been a true Muslim-Christian partnership."
Rai came under fire last Friday from the opposition March 14 parties but won praise from March 8 politicians for indirectly defending Hezbollah's arms and linking the party's arsenal to the termination of Israeli occupation of Lebanese territory and the return of Palestinian refugees to their homeland . Even MP Walid Jumblatt who defected from March 14 alliance was very critical of Rai's statements.
On September 8, Rai emphasized that only when the international community exerts pressure on Israel to vacate the occupied Lebanese territory ( the Shebaa Farms, Kfar Shouba hills and the Lebanese part of the disputed border village of Ghajar ) and Israel allows Palestinians in Lebanon to return to their homes, can Hezbollah be asked to hand over its arms because they will no longer be needed."
He added that Syrian President Bashar al-Assad is "open-minded" and should be given more chances to implement the reforms he already announced.
Fares Soueid, coordinator of the March 14 Secretariat General, rejected Rai's remarks on the divisive issue of Hezbollah :"Patriarch Rai's statement is coming in contradiction with the principles of the Maronite Church which has since 1943 been supporting the project of state building," He said adding
"The Maronite Church is condemning the presence of non-legitimate weapons in the hands of any of the communities in Lebanon, Christian or Muslim."
This error message is only visible to WordPress admins
Error: No connected account.
Please go to the Instagram Feed settings page to connect an account.