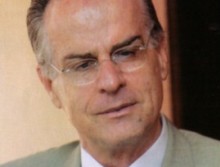 MP George Adwan , a key member of Lebanese Forces parliamentary bloc praised in an interview with Kuwaiti newspaper Al-Anbaa published on Wednesday Prime Minister Najib Mikati's recent stance on the funding of the Special Tribunal for Lebanon (STL) probing the 2005 assassination of Lebanon's former Prime Minister Rafik Hariri.
"His stance will protect the good ties between Lebanon and the international community," Adwan said
Adwan called on Mikati to implement his stance without any delay.
The UN-backed tribunal is funded by an assortment of donor countries from around the world as well as Lebanon. However, Hezbollah and other March 8 parties and figures have spoken out against Lebanon's ties and funding for the tribunal.
Hezbollah suspects
Adwan also described the PM's call for Hezbollah to appoint a lawyer to defend their members at STL as "a remarkable change in his position."
Four Hezbollah members have been indicted by the STL for the murder Rafik Hariri.
Rai
Adwan also said that "Maronite Patriarch Bechara Boutros al-Rai tried to clarify his stances on Syria and Hezbollah's weapons when he returned from France… which means that he still abides by the patriarchate's historic principles."
"The presence of Christians [in the Middle East] does not depend on a person or regime, but on [the Christians'] interaction with the society they live in," the MP said in reference to some figures' views that the Syrian regime is needed to protect the Christians of the country.
The patriarch has faced criticism by a number of March 14 politicians after his recent statements in France supporting the Syrian regime and Hezbollah's arms.
However the patriarch clarified the aforementioned statements on Tuesday during his visit to the Metn town of Al-Arbaniyya, saying, "You should forget all the statements that were taken out of context and have nothing to do with my personal opinion."