Mikati calls for return to the language of reason and logic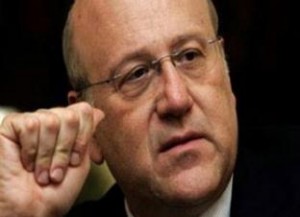 Prime Minister Najib Mikati called on Lebanese factions to tone down their rhetoric and "return to the language of reason and logic," at a Cabinet session Wednesday."
I reiterate my sincere call on all sides to return to the language of reason and logic and to abandon harsh rhetoric, which deepens the divisions among the Lebanese," Mikati said, according to Information Minister Walid Daouk, who spoke to reporters following the Cabinet session which was held at the Grand Serail.
The prime minister touched on the "unhealthy mood" in Lebanon's political society, manifest in "curses and unconstructive criticism."
He appeared to be referring to Free Patriotic Movement leader Michel Aoun, who the day before launched a scathing attack against Mikati, accusing him of protecting state employees whom he said were violating the law.
Mikati told ministers Wednesday evening that it was "once again necessary to stress that the [events] being witnessed [in] the region require that we exercise [at least] the minimum level of solidarity until this storm passes peacefully," Daouk said.
Mikati also congratulated the Foreign Ministry for hosting the Second Meeting of State Parties to the Convention on Cluster Munitions.
He said that the conference constituted an opportunity to highlight the importance of cooperating with the international community and civil society in Lebanon and abroad to confront the "disastrous effects" of cluster bombs which continue to jeopardize the lives of Lebanese.
Israeli war planes dropped more than one million cluster bombs over south Lebanon during its 2006 war against Lebanon.
In other business, the Cabinet approved a loan agreement between the Education Ministry and the World Bank for construction purposes, as well as a proposal by Mohammad Fneish, the minister of state for administrative development, to evaluate the productivity of directors-general and heads of boards of directors at state institutions.
Ministers accepted a request by the Investment Development Authority of Lebanon to pay financial incentives to farmers and exporters to improve production and packaging, and endorsed a contract between the Interior Ministry and the French National Printing House to print Lebanese passports.
Mikati voiced hope that a controversial electricity bill, which was approved by the Cabinet last week and referred to Parliament, would be adopted in a mood of cooperation and accord, without tension, pre-judgment and political description depicting the bill as if it is being demanded by one political group and rejected by the other.
The Cabinet session is the last of this month, as Mikati and President Michel Sleiman will travel to New York next week.
Separately, the Central News Agency Wednesday quoted political sources as saying that Mikati will visit Maronite Patriarch Beshara Rai at his summer residence in Diman Friday.