Mikati urges Hezbollah to hire lawyers to defend its 4 members at STL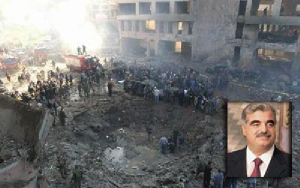 Prime Minister Najib Mikati told Al-Jadeed television station that he wished Hezbollah would appoint lawyers to defend its four members who were accused of assassinating former Lebanese prime minister Rafik Hariri in 2005.
The prime minister said he was convinced of Hezbollah's innocence.
When asked about his government's stance on funding the Special Tribunal for Lebanon (STL), which indicted the Hezbollah members in Hariri's murder Mikati said :
"Lebanon is a founding member of the United Nations and we will not be selective in implementing international resolutions; I will not give Israel a pretext to sack Lebanon from the international community or to impose sanctions on Lebanon ."
His answer was interpreted to be a yes , Lebanon will pay its $32 million share of funds to the U.N.-backed court.
Many in Lebanon and the International community are concerned that the Mikati's government, which is heavily  dominated by the Iranian and Syrian-backed Hezbollah and its allies, will refuse to pay its dues to STL.
Mikati said his government was mulling several scenarios related to the funding of the court but refused to elaborate on those. "I will not talk about solutions now, because I want the government efforts to succeed," he said.
Mikati urged the Lebanese to stay away from Syria's domestic troubles, stressing that Lebanon will not interfere in the internal affairs of Syria adding that Lebanon as a non-permanent member of the United Nations Security Council will not take any decisions against Syria.
"We wish for the Syrian people what they wish for themselves," he said, adding that the turmoil in Syria will be extensively tackled at the U.N. Security Council, which Lebanon will head during the month of September.
"Our decision is very clear: we will not take any decisions against Syria," Mikati said.
The prime minister also said that both the international community and Syria understood the "peculiar" nature of the relationship between Lebanon and its neighbor.
Commenting on other issues in the interview … Mikati hinted that there will be an increase in taxes on the rich in the next budget.
Mikati said that he supported proportional representation as an electoral system, arguing that it guarantees maximum representation. "We are now waiting for the interior minister to submit a draft electoral law, which will be examined by a ministerial committee," he added.