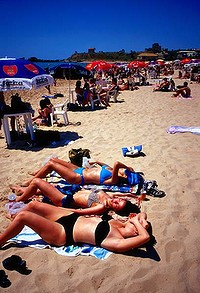 By Rummana Hussain
Their eyes widened like golf ball-sized falafels, their mouths slack-jawed.
I understood my friends' panicked concern over my decision to explore Lebanon as Arab Spring somersaulted across the Middle East.
But I assured them that the tiny Mediterranean country was relatively stable based on the glowing reviews of recent visitors and kept the days-old news accounts of the Estonian tourists kidnapped in Bekaa Valley to myself.
"You're going to get shot," my mother said half-jokingly, suggesting that the snug University of Illinois T-shirt I threw on for the airplane ride wasn't modest enough and would out me as an American.
Several hours later, as my younger sister Almas and I ambled through Beirut's trendy Gemmayze Street in a jet-lagged haze, we smirked as throngs of women in tiny, form-fitting pencil skirts stood feet away from neon-lit stalls selling … hot dogs.
These fast-food joints accept U.S. dollars, as do most Lebanese businesses, we soon learned.
"Wait. That's Guns N' Roses!" I said, playing an impromptu game of "Name That Tune" as we pressed our faces against a tavern where drunken revelers karaoked and puffed away on ornate hookahs, or as the Lebanese call them, nargiles.
Lebanon, our bed-and-breakfast host Jamil Azar explained, is a conciliatory antidote for wary Westerners uninitiated to the paradoxical ways of the Middle East.
He was on to something.
As Muslims whose wanderlust parents took us back to their native India and other exotic locales, we weren't shocked that it was foreigners who mostly rode the rare camel or by the burqa-clad women browsing through racks alongside kohl-eyed hipsters at the Reem Acra spring/summer collection show we crashed.
But we were pleasantly surprised at the ease with which Lebanon embraced modernity without compromising centuries-old traditions, and its attempt to corral together a religious and ethnically diverse population who not too long ago battled one another for a drawn out 15 years.
"They pray together," I thought to myself, glimpsing Mohammad al-Amin Mosque's grand turquoise domes from the neighboring St. George Cathedral, a Maronite church dating to the Crusades in Beirut.
My new friends — Ali, a Shiite, and Nicolas, a part-Greek Christian — also pointed out that when the sun goes down, the young and trendy also play together, hitting the capital's famed nightclubs and bars.
I told Ali and the drivers working for his brother's 4-wheel rent-a-car company that we could forgo the discos and brushed away offers to "make ski" in the snow-capped Faraya-Mzaar.
We don't want to do things we could do in Chicago, we said, mapping out an itinerary that had them driving us to the famed Jeita limestone caves and Roman ruins that outrivaled their European counterparts.
Every morning, sometimes after an early tai chi lesson, Jamil would prepare a traditional meal, then walk us to the door, once shooing away a Jehovah's Witness who didn't stand a chance with the secular Christian artist or his Muslim guests.
Jamil's spacious ancestral apartment mirrors modern-day Beirut's chic and stately facade marred with an occasional blemish intentionally left untreated, as if to serve as a sobering reminder of the country's bloody past and its powder-keg geographical location, sandwiched by Israel and Syria.
One day, as I dipped flatbread in Lebanese yogurt and an herbed sesame spread — Jamil lifted the cream-colored linen, revealing where a bullet grazed across the dining table during the civil war between 1975 and 1990. Near his stereos and CDs sits a framed picture of his beloved nephew who was killed in a bombing a few years back.
Outside, a sniper-riddled Holiday Inn from the 1970s juts out from the million-dollar condos, palm trees and five-star hotels like a pockmarked teen amongst air-brushed Abercrombie & Fitch models.
At the breathtaking American University, where students in Uggs, hijabs and beanies mill about, stands a knotted banyan tree dedicated to the school's late president Malcolm Kerr — the father of former Chicago Bull Steve Kerr — who was gunned down by terrorists on the campus in 1984.
And just outside the Al-Amin mosque, recorded Quranic passages waft through the air at the gravesite of Prime Minister Rafic Hariri, who was assassinated along with his trusted bodyguards in 2005.
Yet the Lebanese continue to march on, celebrating life while keeping an eye on who they once were.
This resilience is best personified by 80-year-old Moussa al Maamari, who built a towering castle in the Chouf region for the woman he loved but who never loved him back. While less historic than Sidon's Sea Castle and more rudimentary than the nearby Beiteddine Palace, Moussa's handiwork is impressive because the elderly man built the structure himself over a 60-year period, filling it with kitschy miniatures and an antique weapons collection.
Moussa married another woman, he told me in Arabic as a local tourist translated. But I had no doubt he still held a torch for his childhood crush.
"She slapped me twice. But I enjoyed it," Moussa said, relishing the memory.
Rain dampened our trip to Byblos, the quaint fishing village housing the ancient town of influenced by Egyptians, Greeks, Romans and Phoenicians.
But the weather was more agreeable when we visited the ruins of the Umayyad city of Anjar and the must-see temples in Baalbek — the "nest" of Hezbollah. It was the only excursion we took with a tour group.
As hawkers tried peddling Hezbollah souvenirs outside, we marveled at the well-preserved, intricate temples dedicated to Venus, Jupiter and Bacchus inside. More than 100,000 slaves are believed to have helped build the structures, with the work starting in 60 B.C. and finishing 120 years later.
"This is much better than the Parthenon," my sister said, otherwise speechless over the sheer massiveness of the Corinthian columns in what many historians believe to be the best-preserved Roman temple of its size.
Baalbek was no doubt the highlight of our trip.
On our last day in Lebanon, Bedros, a young L.A.-based Armenian-American hairdresser visiting relatives and sorting his family's property, asked us if we knew where the open-air farmers market was.
We didn't. But we took Bedros to the mosque, Christian Louboutin and Hermes boutiques before accidentally stumbling upon the outdoor produce and snack haven he had been searching for.
There, at the farmers market, a woman Almas recognized from the popular Anthony Bourdain travel series prepared kibbeh with raw meat and bulgar.
We asked just for a sample because we weren't sure if the uncooked delicacy would be too gamey for our palates.
Then, when I wasn't paying attention, the woman stuffed the uncooked concoction into my mouth.
It was unexpected, a jolt to my senses.
Just like Lebanon.