"Mixed bag" for U.S. Muslims since Sept. 11
"Yes, it's easy to be a Muslim in America as far as religious freedom, but there's a sense of being under greater scrutiny."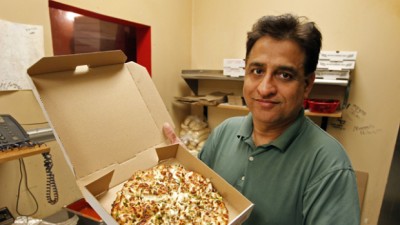 By Daniel Carty
It was a Tuesday evening in August 2010 when a 21-year-old art student from suburban New York hailed a taxi cab on a Manhattan street, carrying a couple of notebooks, an empty bottle of scotch and a folding knife. After asking the cabbie if he was a Muslim, the student, Michael Enright, muttered "consider this a checkpoint" before slashing at the driver's neck and eventually fleeing through the car window.
The driver, Ahmed H. Sharif, survived with relatively minor injuries. Enright, who had actually visited Afghanistan earlier that year as part of a group aiming to promote interfaith dialogue, was arrested and charged with a hate crime.
The attack may well have been the most acute example of anti-Islamic sentiment last summer, but it was hardly the only one. For months, a debate raged over the plan to build an Islamic center within several blocks of the World Trade Center site – with critics weighing in from around the country, including some family members of 9/11 victims. In Florida, the Rev. Terry Jones threatened to burn a Quran if the proposed site wasn't moved. (Efforts to block the center's approval failed and Jones, though he backed away from his initial threat, went through with a Quran-burning in March after finding the Muslim holy book guilty of crimes against humanity in a televised "trial.")
In the wake of the 9/11 terror attacks, American Muslims have had a complicated relationship with their own country. According to a Pew Research Center study, more than half – 55 percent – say it's been more difficult being Muslim in the U.S. since 9/11, yet almost the same exact number – 56 percent – report being satisfied with the way things are going in the country.
"It's a mixed bag," Ibrahim Cooper, spokesman for the Council on American-Islamic Relations said.
"Yes, it's easy to be a Muslim in America as far as religious freedom, but there's a sense of being under greater scrutiny."
Just last month, the Associated Press reported that the NYPD, with the help of the CIA, has been aggressively monitoring Muslim communities in New York and beyond, placing clandestine officers in neighborhoods in an effort to glean intelligence about possible security threats- tactics that have drawn accusations of profiling, though they have been defended by city officials, including Mayor Michael Bloomberg.
In March, Rep. Peter King launched a series of controversial hearings on Islamic radicalism in U.S. Muslim communities – hearings that were characterized by some as a witch hunt, though King, R-NY, defended them as important to understanding threats to Muslim communities and the country at large.
There are also examples from the fringe – Terry Jones' Quran-burning and opponents of the construction of a Tennessee mosque questioning Islam's standing as a legitimate religion in court.
Americans largely agree that Muslims face greater scrutiny in the country – a recent CBS News/New York Times poll found that 78 percent think Muslims and Arab-Americans are unfairly singled out.
But the statistics also show just how much of a "mixed bag" life in the U.S. can be for Muslims. According to the Pew study, while 56 percent of Muslims think most other Muslims want to adopt the American way of life, just 33 percent of the general public agrees (51 percent see Muslims as wanting to remain distinct from the mainstream) – highlighting a gap in how American Muslims perceive themselves and how they are perceived by others.
And while, according to the CBS News/New York Times poll, 73 percent of Americans report no negative feelings toward Muslims after 9/11, a sizable and at times vocal minority – 25 percent – do. Thirty-three percent believe American Muslims are sympathetic toward terrorists.
But for however mixed the numbers may be or controversial some of the rhetoric may get, there are positive signs. After hate crimes spiked in the months following 9/11, they've dropped by 31 percent from 2002 through 2009, according to FBI data.
And there are encouraging stories of Muslims finding friendship and acceptance in communities throughout the country. In Cordova, Tenn., just outside Memphis, Dr. Bashar Shala began constructing an Islamic center right across the street from Heartsong Church two years ago. The pastor, Steve Stone, put up a sign welcoming them to the community and even made his church available to his new neighbors during Ramadan while their center was under construction.
As reported on "The Early Show," both sides have built such a relationship that they're now planning to build a park using property from both sides of the street and host events together like a recent Labor Day party.
Church member Lee Raines is perhaps a symbol of some Americans' evolving attitudes.
"I was anti(-Islam) at first, big-time," he admitted. "To me it was a religion of hate. And with 9/11, I just kind of lost it."
But unlike 20 other church members who left Heartsong, Raines decided to give his neighbors a chance.
"They're normal people just like me and you," Raines said. "They have families, they've got kids, you know, they're running around, they enjoy sports just like I did, you know, they do the same things we do."