Hamadeh predicts that jumblatt may return to March 14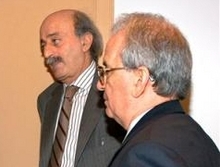 March 14 MP Marwan Hamadeh said on Sunday that Progressive Socialist Party leader MP Walid Jumblatt may return to March 14 alliance.
"I know Walid Jumblatt very well, he was a member in March 14 in his own way and he left it his own way. He may return to it or join another alliance that gathers all those who believe in Lebanon as a diversified and Arab country," Hamadeh told Free Lebanon Radio.
Hamadeh also said that "the government will not last long and will collapse as soon as the Syrian regime falls."
Syrian President Bashar al-Assad's troops have cracked down on protests against almost five decades of Baath rule which broke out mid-March. The death toll in Syria from the crackdown on anti-regime protests has topped 3,000, most of them civilians, the head of a US-based rights group said in Tunis on Sept. 10
Regarding the Special Tribunal for Lebanon (STL), which is investigating the killing of former Prime Minister Rafik Hariri, Hamadeh said that "[the STL] will ask the UN General Secretariat to take action and combine the assassination files of former minister Pierre Gemayel, former MPs Walid Eido and Antoine Ghanem and Internal Security Forces [ISF] Captain Wissam Eid to Gebran Tueni's file."
Four Hezbollah members have been indicted by the STL for former Prime Minister Rafik Hariri's 2005 assassination. However, the Shia group strongly denied the charges and refuses to cooperate with the court.
Hamadeh miraculously survived an assassination attempt in 2004 . Syria was accused of being behind it .Now Lebanon