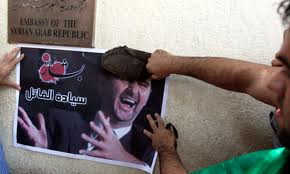 Beirut, Lebanon- The death toll in Syria from the crackdown on anti-regime protests has topped 3,000, most of them civilians, the head of a US-based rights group said in Tunis today.
The United Nations said on August 22 that more than 2,200 people had been killed in attempts by the army and other security forces to suppress almost daily protests across Syria since mid-March.
"More than 3,000 people have been killed, the majority of them civilians, have been killed in 112 Syrian towns and cities," Radwan Ziadeh, head of the Washington-based Damascus Center for Human Rights Studies in Syria, said.
They included 123 aged under 18, he added. He accused Syrian authorities of arbitrary arrests and abductions targeting humjan rights activists and journalists in particular.
The government of President Bashar al-Assad insists that it is battling "armed terrorist gangs."
Ziadeh was speaking on the occasion of the publication of a report by the International Federation for Human Rights (FIDH) on the situation in Syria, to which his organisation contributed.
The report attacked the suppression of basic freedoms, the torture of children and collective punishment of communities in military operations among other rights violations.