Syria targets Homs as U.N. chief calls for international action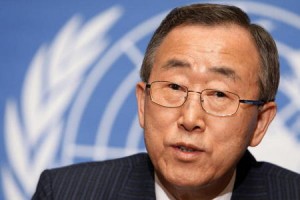 Syrian security forces intensified a crackdown in the restive central city of Homs on Tuesday and appeared to be rounding up protest organizers around the country, according to activists, as the head of the United Nations issued his strongest call to date for international action in the five-month-old conflict.
Protesters speaking via Skype and telephone from Homs said that security forces had overrun several neighborhoods in the city, with armored vehicles roaming the streets and snipers posted on many buildings.
"The city is completely besieged. When I go to the balcony, I can see the snipers on the tall building in front of me," said a Homs resident, who spoke on the condition of anonymity because of safety concerns.
"It's a nightmare," he said. "A really big number of the activists were arrested" Monday. One activist group put the number of detainees at 200.
At least two people, including a 15-year-old boy, died in Homs on Tuesday when security forces opened fire at a checkpoint. Residents also discovered five bodies dumped in the street, apparently from raids Monday, activists said.
Several prominent activists were arrested Tuesday in the suburbs of Damascus, and other arrests took place in Latakia, Deir al-Zour, Daraa and Hama, activist networks said.
International pressure appears to be mounting on the government of President Bashar al-Assad. Last week, the European Union announced a ban on oil imports from Syria, cutting off a major source of the country's foreign currency reserves. A French Foreign Ministry spokesman told reporters Tuesday that the bloc was working on further sanctions.
In New Zealand, meanwhile, U.N. Secretary General Ban Ki-moon suggested that global action could soon take place. Member countries need to take "coherent measures" to address the situation in Syria, the Associated Press quoted Ban as saying.
Assad must take "immediate and bold and decisive measures" to stop the violence "before it's too late," Ban said. "It's already too late, in fact," he added. "If it takes more and more days, then more people will be killed."
Ban's remarks are likely to bolster calls by the United States and the U.N. Security Council's four European powers for a travel ban and financial asset freeze on Assad and more than 20 of his closest associates.
But that push has faced implacable opposition from China and Russia, an ally of Damascus, which has refused to engage the West in any discussions of U.N. sanctions.
Three other key council members, Brazil, India and South Africa, have also raised concerns about the use of sanctions, but they agreed Tuesday to meet with U.S. and European diplomats to discuss a more diluted council resolution. "We've decided to put the sanctions to the side" for the time being, said one Western diplomat.
On the Facebook page of the U.S. Embassy in Damascus, Ambassador Robert Ford posted a combative note Tuesday saying that the United States supports Syrians' right to protest.
"Given the extent of the government's brutality," Ford wrote, "neither the Syrian protest movement nor the international community will believe that this Syrian leadership desires or is capable of the deep, genuine and credible reforms that the Syrian people demand."
Many activists have said they fear that Assad may launch an attack on citizens comparable to the one mounted in 1982 in Hama under his father, Hafez al-Assad, in which at least 10,000 people were massacred over a period of weeks. That crackdown quelled large-scale dissent for decades.
Residents of Homs said calls for armed resistance are growing in the streets as the crackdown continues. But many activists say they worry that fighting back will play into Assad's hands.
"The situation is unbearable. You cannot watch the other side just killing you, killing your family, killing your children," a Homs resident said. "But we are concerned about the consequences of taking up arms."