UAE fires coach after defeat by Lebanon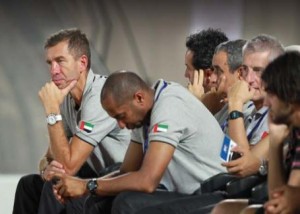 Srecko Katanec has been sacked as UAE coach just hours after his side crashed to a humiliating 3-1 defeat by Lebanon in their Group B World Cup qualifying match in Beirut.
The Slovenian tactician had already been under enormous pressure following his side's shock 3-2 defeat at home to Kuwait last weekend set against the backdrop of rumoured dressing room unrest.
While he was given the dreaded vote of confidence by UAE FA chief Mohammad Khalfan Al Rumaithi on Sunday, his side's embarrassing loss to a Lebanon side they had beaten 7-2 in July has proven to be his final act as manager.
It appeared to be a case of 'when' and not 'if' he would be given his marching orders after reports emerged earlier on Tuesday claiming that former Al Jazira boss Abel Braga, now at Brazilian side Fluminense, had already been approached regarding the position, only to turn it down.
But speaking to Sport360° a short time before news of his dismissal filtered through Katanec was adamant that he would not walk away from the position he has held since 2009.
The Slovenian pulled a blank face at every mention of whether he would quit and insisted his side's deficiencies, so brutally exposed in the Cite Sportive Stadium, were due to a lack of physical preparation.
"We should have scored in the first 20 minutes at least three times, but we had clear physical problems, in this period it was impossible to do from my side, I have no chance," Katanec told Sport360°.
"Preparation is difficult. It is difficult to work with one coach for a period of Ramadan. We gave them the penalty and the second goal but this happens when you are physically not fit.
"(Lebanon's players fasted too) but they stayed behind and used our mistakes. Some of the players were clearly down after 20-25 minutes."
Katanec spoke of his belief that the UAE could still qualify for the "greatest show on earth" in Brazil in 2014 despite being stranded at the bottom of Group B with no points after two games and with the daunting prospect of a meeting with South Korea in Seoul up next.
"We have zero points, congratulations to Lebanon, that's it. I'm responsible first but we still have four games. We are mathematically still in this. Normally in (this situation) the chances are quite low."
Katanec bemoaned the absence of Al Wahda striker Ismail Mater whose presence was missed throughout the game as a hapless UAE ran out of steam and ideas, while the Slovenian also slammed Pro League clubs for the phyiscal condition of his players.
"Mater has special qualities that nobody in the area has. We don't have it now. Some of our main players came completely unprepared and for a coach that is impossible (to deal with)," he said.
"Why a club leaves a player at home for 14 days and left to sleep, I don't understand. I must take all responsibility because I put these players out to play. We lose a match I have no problem with this. I think I do my job best when (I'm against the wall). "
We lost, this is bad, I'm sorry first for the president, a nice person, but unfortunately… I hope (when the league starts) that we will see some (improvement). Ahmad Khalil wasn't (100 percent) and he made the (initial mistakes) and is our only striker."
It had all started so well for the visitors after Mahmood Al Hammadi had given them an early lead, but Lebanon, still smarting from Thiyab Awana's "disrespectful" backheeled penalty in the sides' last meeting, refused to roll over and duly equalised through a Mohamed Ghadar penalty.
Lebanon, ranked 52 places below the UAE in the FIFA world rankings in 160th place, remained on the front foot in the second half against a UAE side that looked distinctly unfit and devoid of any real creativity within their ranks.
And they paid the ulimate price as Akram Moghrabi pounced on a defensive mistake from UAE's Youssef Jaber to put Lebanon 2-1 up before Roda Antar sealed their fate with late third as UAE pushed in vain for that elusive equaliser.
In all, Katanec presided over 27 games in charge of the UAE national team since taking the reins from Frenchman Dominique Bathenay in 2009, winning 12, drawing six and losing nine of his matches to give him a winning percentage of 44.4 per cent.