Salibi, a prominent Lebanese historian died at 82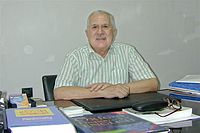 Kamal Suleiman Salibi, a prominent Lebanese historian who taught at the American University of Beirut (AUB) for more than half a century, and an Honorary President (formerly, founding Director) of the Royal Institute for Inter-Faith Studies in Amman, Jordan, died in Beirut on Thursday aged 82, AUB announced.
Born on May 2, 1929 in Bhamdoun in Mount Lebanon, he completed his secondary education at the Prep School in Beirut (now International College), and his BA in History and Political Science from AUB, before moving to the School of Oriental and African Studies, SOAS (University of London) where he earned his PhD in history under the supervision of historian Bernard Lewis.
After his graduation from SOAS, Salibi joined AUB as bibliographer of the Arab Studies Program. He then became professor in the Department of History and Archaeology where he joined other prominent and already established historians such as Nicholas Ziadeh and Zein Zein. In 1965, he published The Modern History of Lebanon, which was subsequently translated into Arabic, Russian, and French. Salibi eventually became one of the pillars of the history department, mentoring, training and supervising many students who later became authorities in their own right.
In the summer of 1982, during the Israeli invasion of Lebanon, Salibi was finalizing his controversial book, "The Bible Came from Arabia", which was translated into German at the same time as the original English version was being published in London. In this book he argued that the origin of the First Testament pointed to southwest Arabia rather than Palestine. Salibi wrote subsequent works on biblical issues using the same etymological and geographic methodology. Some of his books are today considered classics, notably A House of Many Mansions: The History of Lebanon Reconsidered (1988) and The Modern History of Jordan (1993).
In 1994, Salibi helped found the Royal Institute for Inter-Faith Studies in Amman, Jordan and became its director from 1997 until 2004, following his retirement from AUB. Since then, he has been associated as a consultant with the Druze Heritage Foundation.