Gaddafi urges followers to turn Libya 'into a hell'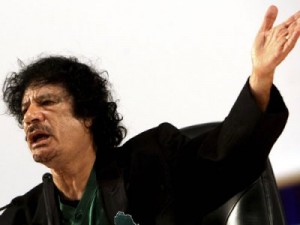 A defiant Muammar Gaddafi has issued his latest apocalyptic statement, urging his surrounded followers to "keep fighting" and promising to turn Libya "into a hell".
In an audio statement aired this afternoon by Syria's Arrai TV station, Gaddafi denounced the rebels as "traitors", and said tribes loyal to him would never surrender to "collaborators". "We won't surrender again; we are not women; we will keep fighting," he declared.
"They [the Libyan people] cannot be brought to their knees. You cannot even pass through their soil, can you imagine ruling them? The Libyan people are not a herd of sheep, they cannot be defeated," he said, referring to still-loyal tribes in the towns of Sirte and Bani Walid.
He continued: "My voice represents danger to them [the international community]. Now they are working to jam our radio stations. They fear our voices. This proves the occupiers are weak."
He then exhorted: "Stand up to them from city to city, mountain to mountain, valley to valley. It will continue to be a long battle.
Libya will turn into a hell. How can the Libyan people surrender?
Continue to fight. We enjoy grassroots support. Collaborators cannot survive."
The message gives no clue where Gaddafi might be hiding, or even if he is still inside the country. There is continuing speculation that he is in or near Bani Walid, 150kms south-east of Tripoli, where he was allegedly spotted last Friday. Alternatively some believe he has fled further to the southern desert town of Sabha, 750 kilometres from the capital.
It does indicate that Libya's vanished ex-leader hasn't yet grasped the reality of his situation: that most of the country including Tripoli is now under new management. Nor does he appear understand that, far from wanting to rise up and defend his old regime, most Libyans are glad to see the back of him.
There is no indication when the message was recorded. But Gaddafi's broadcast seems deliberately designed to undermine the "Friends of Libya" conference taking place in Paris. The conference, attended by world leaders, is a major boost to the National Transitional Council (NCT), now acclaimed by most of the international community as Libya's legitimate ruling authority.