MP Merhebi: Lebanon FM acts on instructions from Syria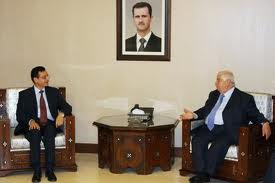 March14 MP Mouin Merhebi said on Thursday that Lebanon Foreign Minister Adnan Mansour acts on instructions from his Syrian counterpart, Walid Mouallem, concerning Lebanon's foreign policy.
"Many ministers, in particular the 'Lebanese-Syrian' Minister Mansour, receive instructions from Mouallem and Syrian President Bashar al-Assad," Merhebi told Free Lebanon radio.
The Future Movement MP slammed Prime Minister Najib Mikati saying that the latter's stances are not up to "the authorities that his post affords him."
Mansour said that the meeting of the ministers of foreign affairs in the Arab League ended with an agreement not to issue any statement concerning Syria.
Lebanon on Wednesday backed Syria in rejecting an Arab League statement demanding an end to the bloodshed in the country. "Lebanon stands by brotherly Syria and its stance is clear in this regard," Mansour told the Hezbollah-run al Nour radio station Wednesday.
Mansour is a member of the Amal Movement which is headed by Speaker Nabih Berri a close ally of Hezbollah .The cabinet of PM Mikati is heavily influenced by Hezbollah, a close ally of Iran and Syria.