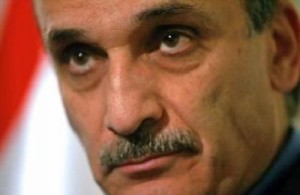 Lebanese forces leader Samir Geagea said on Tuesday that by contesting the UN-backed Special Tribunal for Lebanon (STL) which is probing the 2005 assassination of former Prime Minister Rafik Hariri, Hezbollah is admitting of being behind the murder.
The way Hezbollah is refusing to cooperate with the STL, its refusal to hand over the four indicted Hezbollah members and its accusations of the tribunal of being politicized are evidence that the party is pointing fingers at itself, Geagea told Saudi Al-Ekhbariya television.
"The STL leaks to media outlets are not signs of its politicization," Geagea stressed
The LF leader also slammed what he called the "Syria and Hezbollah's" cabinet.
"Hezbollah and the Syrian regime sponsored the collapse of former PM Saad Hariri's cabinet and the formation of a new one headed by PM Najib Mikati," Geagea said.
Geagea added that the current cabinet was paralyzed even before starting its work because of the pressure made by March 14's parliamentary bloc.
"We opposed this cabinet based on the way it was formed and its ideology, … we will oppose it through our political stances and movements, and through pressure groups in the parliament," he added.
Commenting on the Syrian regime crackdown against the pro-democracy protesters the LF leader said that his party "can't but respect the will of the Syrian people"
Syrian president Bashar Assad's security forces killed over 2200 pro-democracy protesters who are demanding freedom since mid-March.
Four Hezbollah members were indicted by STL in the killing of Hariri , but the Iranian and Syrian-backed group refused to cooperate with the court.