UN Security Council extends peacekeeping mission in Lebanon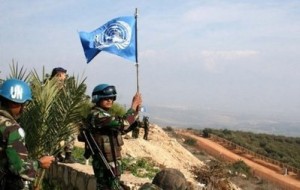 The U.N. Security Council has extended the peacekeeping mission in Lebanon (UNIFIL) for another year, saying the situation there remains a threat to international peace and security.
The council on Tuesday praised the role of the U.N. peacekeeping force, which is deployed with the Lebanese Armed Forces.
But it condemns "in the strongest terms" terrorist attacks against peacekeepers and calls on all sides to respect the safety of U.N. personnel.
U.N. peacekeepers have been charged with monitoring Lebanon's southern border with Israel since 1978. The force was boosted to almost 12,000 troops after Israel and Iranian-backed Hezbollah fought a war in 2006.
A roadside bomb wounded at least five peacekeepers in a U.N. convoy last month.