Calls for investigation of Gaddafi war crimes in Libya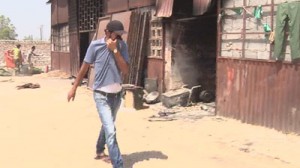 On Saturday, Sky's chief correspondent Stuart Ramsay uncovered evidence of a mass killing, which witnesses said had been carried out days before by pro-Gaddafi forces.
"Their skeletons were still smouldering. One of the bodies appeared to be lying on a chair; he or she had died while resting." Ramsay said
As Ramsay was shown the bodies, voices could be heard saying "Muammar Gaddafi, Muammar Gaddafi".
One man who claimed to have escaped said the building was used to execute people who refused to kill civilians.
Local residents said those killed had been arrested for disagreeing with the Gaddafi regime and that there were many more buried in the area.
Ramsay said he had counted as many as 53 executed bodies in the burnt-out warehouse in the south east of Tripoli.
Clive Baldwin from Human Rights Watch said the scene was similar to other ones he had witnessed.
He said it appeared that pro-Gaddafi forces had shot detainees in the last few days before rebel fighters entered Tripoli.
"We have also seen people in military uniforms," he said.
"This is similar to March when we had evidence of members of the Libyan army refusing orders and being killed."
Ramsay's discovery came hours after dozens of dead bodies were found at a hospital near Tripoli.
They were patients apparently abandoned in their beds at the Abu Salim building when fighting broke out last week.
Most of the victims were men and several had been shot, according to reports.
Witnesses described seeing the decomposing bodies piled up in the building.
It was unclear when the men died or who killed them, but reports said they had darker skin than most Libyans. Col Gaddafi has recruited fighters from sub-Saharan Africa.
Photo: The warehouse was apparently used to execute people who refused to kill civilians