Hariri: 'Achieving justice conflicts with Tehran's goals'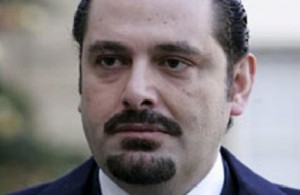 Former prime minister and current opposition leader MP Saad Hariri responded on Tuesday to Iran's latest statement on the UN-backed Special Tribunal for Lebanon (STL), saying "achieving justice conflicts with Tehran's goals."
Iranian Foreign Ministry spokesperson Ramin Mehmanparast stated earlier on Tuesday that STL, "has no legal rights." He accused the tribunal of being "politicized."
STL was established to find and try the killers of former PM Rafik Hariri ( Saad Hariri's father ) and the related crimes
"The Iranian Foreign Ministry's position regarding the STL is the same as Hezbollah's, and is part of their policy to [obstruct] justice from being served," Hariri said
Hariri added that the international community "gave the tribunal its legal rights" when it issued a UN Security Council resolution to set up the court.
Hariri commented on the fugitive Hezbollah members accused of killing his father by saying: Everyone in the world knows about the relations between Iran and Hezbollah but I hope this relation did not expand to include hiding those wanted for justice"
He also said that Iran's behavior vis-a-vis political murders "does not reflect any wisdom or responsibility."
The Iranian and Syrian -backed Hezbollah brought down PM Saad Hariri's government on January 12 over the Special Tribunal for Lebanon's (STL) imminent indictment.
The Special Tribunal for Lebanon issued the indictments and arrest warrants in the assassination of Lebanon's former PM Hariri on June 30. Two of the suspects Mustafa Badreddine and Salim Ayyash are reportedly senior members of Hezbollah and played leading roles in the assassination while the other two Hezbollah members Hassan Aneissy, also known as Hassan Issa, and Assad Sabra played a supporting role in the execution of the assassination.
Lebanon had 30 days to find and arrest the suspects but Hezbollah chief Sayyed Hasan Nasrallah said on July 2 that the party would not cooperate with the tribunal.
"No Lebanese government will be able to carry out any arrests whether in 30 days, 30 years or even 300 years."