Offices of Hama's courthouse in Syria set on fire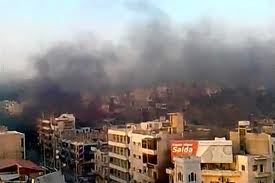 A group of "saboteurs" have stormed the main courthouse in Syria's flashpoint city of Hama and set fire to some offices, the official news agency SANA reported on Tuesday.
"A group of armed saboteurs stormed the Palace of Justice in Hama yesterday (Monday) afternoon and set fire to some offices before ransacking them," the agency said, quoting the head of the lawyers' union in Hama.
"Plumes of black smoke were seen yesterday afternoon rising from the complex where several departments were on fire," SANA quoted Mohammed Abbas as saying.
The agency also quoted unnamed sources as saying that "hundreds of masked men riding motorbikes" attacked the main courthouse and set fire to offices.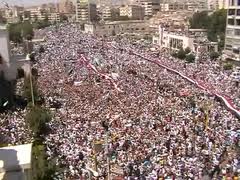 On Sunday, Syrian forces killed around 140 people across the country, including more than 100 in Hama, scene of an Islamist revolt in 1982 that was crushed at the cost of an estimated 20,000 lives, activists said.
Late on Monday the army shelled a residential sector on the outskirts of the city, an activist at the scene told AFP in Nicosia.
But an official source quoted by SANA on Monday said troops were locked in clashes with "saboteurs" in the city.
"The army is pursuing its mission in Hama and is removing barricades erected by groups of saboteurs at the entrances of the city," the agency said.
Embattled President Bashar al-Assad marked Army Day on Monday by showering the army with praise and saying it had "proved its loyalty to its people, country and creed."
But the crackdown on dissent has triggered a new flood of condemnation and prompted the UN Security Council to hold emergency talks on Monday about the Syria crisis, with another meeting due on Tuesday.