Musician arrested for song calling for President to "go home"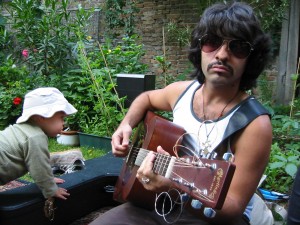 Lebanese authorities on Wednesday detained local musician Zeid Hamdan for allegedly defaming President Michel Suleiman, according to people familiar with the case.
In 2010, Hamdan and his band, Zeid and the Wings, wrote a song called "General Sleiman" that called on the president, who led the army before his 2008 election, to "go home."
A message posted earlier in the day on his Facebook page said: "Message from Zeid [Hamdan] in prison: Dear friends, I am now in the prison of the police station of the palace of justice in Beirut because of my song 'General [Suleiman]'. They are prosecuting me for [defamation] of President [Suleiman]. I [don't] know, until when I am staying in prison. Please mobilize!"
A friend of Hamdan's and Darine al-Hajj, director of the local human rights group ALEF, confirmed to NOW Lebanon that Hamdan was detained.
The Facebook group "Free Opinion, Free Speech, Mobilize NOW to Free Zeid Hamdan" said that activists would protest tomorrow in Beirut's Adlieh area—near the General Security building he is allegedly detained in—if he is not released tonight.
The presidential palace did not return a call seeking comment. In 2010, Mirza had four people arrested for opening a Facebook group critical of the president.
In a 2010 interview with NOW Lebanon's Angie Nassar, Hamdan said he did not intend to single out Sleiman for critique.
"I'm not attacking General Sleiman in particular, on the contrary, at the time I wrote the song, he represented real political neutrality. The only sarcastic thing I suggested in my song is about his effective role, a way of saying 'thank you, you did the job, you can go home now.' He was praised by all when they needed him and today he is attacked, like in the song," he said.
Update – Hamdan Released from Prison
Hamdan was reportedly released Wednesday evening according to lawyer, Nizar Saghieh.
Saghieh added that Attorney General Judge Said Mirza must now decide whether to file formal charges against Hamdan. Slandering the president in Lebanon carries a maximum prison sentence of two years.
A posting on Hamdan's Facebook page said: "I am free now, thank [you] for your help!"
Mirza ordered Hamdan arrested for a music video he made about Sleiman, according to Saghieh.
In the song, entitled "General Sleiman," Hamdan's group "Zeid and The Wings" describes the head of state as a "miracle man" and urges all "militiamen, corrupted politicians, weapons dealers, foreign intelligence and neighbor influence" to go home.
The reggae-style English language song ends with the following lyrics: "General Sleiman, you're a miracle man for peace in the nation. General Sleiman you're a miracle man. Gene, gene, general go home."
Now Lebanon