Jumblatt's latest political shift a concern for March 8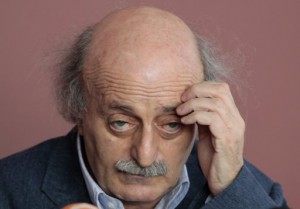 A debate has emerged among the Lebanese forces allied to Syria over Progressive Socialist Party leader MP Walid Jumblat's recent positions, with some sides voicing their disappointment with them, revealed a March 8 source to al-Jumhuriya newspaper on Wednesday.
"We are monitoring his stances" in apprehension of any shift in his alliance, it added.
"Some contacts have been made between March 8 camp factions and PSP officials close to the MP to determine the truth behind his recent positions," it revealed.
His circles asserted the Druze leader's principles of supporting the Resistance and the alliance with Syria and preventing any internal sectarian strife, said the source.
The March 8 source noted that the slight shift in Jumblat's stance coincided with that of Moscow, which is the most prominent international backer of the Syrian regime.
He may have received a Russian message during his recent visit to the country that attempts to salvage the Syrian regime will fail, it stated.
Jumblat may be seeking to bridge the divide between him and his former allies in the March 14 camp, reported al-Jumhuriya.
His sources said: "He will not take any step that may harm his ties with Hizbullah out of his keenness on the security of Mount Lebanon."
"He is trying to restore amicable ties with former Prime Minister Saad Hariri, while maintaining good relations with Hizbullah chief Sayyed Hassan Nasrallah," they continued, "In addition, he is trying to separate his ties with the party from his alliance with Syrian President Bashar Assad," they stressed.
Furthermore, the sources ruled out the possibility that the MP is preparing for the 2013 parliamentary elections, where he would have to respect the Sunni authorities in Beirut, the Shouf, and western Bekaa.
Naharnet