Karam's trial postponed to Aug. 30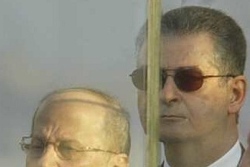 The trial of Brig. Gen. Fayez Karam was postponed by the military court on Thursday to Aug. 30, after the prosecution demanded reports about his health condition.
New TV reported that the prosecution asked doctors from Dahr al-Basheq Hospital to submit reports about Karam's health condition.
Karam's lawyer Cinderella Merhej told OTV that the trial delay was "not expected."
"The legal path states that the trial was postponed for two reasons: the first is the Intelligence Bureau request from the court to submit the voice records and the second is the demand from Dahr al-Basheq hospital to submit Karam's health report," the lawyer said.
However, the lawyer added that "the judge read a document issued by the Intelligence Bureau stressing that there are no voice or visual records" connected to the case.
Merhej described the postponement as "unjustified."
Karam a senior FPM official was arrested by the Internal Security Forces (ISF) – Information Branch last August and was charged with espionage and providing Israel with information on Hezbollah, FPM leader Michel Aoun's closest ally.
MTV quoted an FPM source last September as saying: "
Karam confessed that he had visited ( MP Michel ) Aoun's resident in Rabiyeh during the July war, telling him: General, you know about my relation with an officer in Israel's intelligence services, who nowadays became a diplomat in London, so what do you say if I suggest to him that you become the mediator between them (Israel) and Hezbollah in order to end the war and then you'd play the heroic role before everybody?" In reference to the July 2006 war.
Hezbollah reportedly knew that Karam, was collaborating with Israel from the moment he was arrested last August , an Arab diplomat told Al-Balad newspaper in an interview published last October 22.
"Hezbollah did not bring up the issue of Karam publicly because it took into account its alliance with FPM leader MP Michel Aoun," the diplomat said.
Karam and Aoun went into exile in France following Aoun's defeat by the Syrian army in 1990 and both returned to Lebanon in May 2005 , 11 days following the withdrawal of the Syrian army from Lebanon.