Aoun: Lebanon needs Hezbollah to survive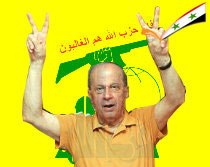 Free Patriotic Movement leader MP Michel Aoun stressed on Sunday that Lebanon's future is "closely linked to the Resistance and the powers that are confronting Israel's policies."
He told al-Nour radio: "We cannot survive as a nation without these powers and without the Resistance's support."
"Lebanon's future is related to the Resistance…because Israel is an aggressive state that only wants to control and expand," he added.
"We cannot survive as a country without this resisting strength or without the support of the resistance," Aoun said during a discussion about the July 2006 war between Lebanon and Israel. "This is where formula of the people, the army and the resistance comes from. [Those three] are united and connected to each other against the enemy."
Aoun, a close ally of Hezbollah, noted that Lebanon's future was closely tied to the permanence of the resistance, describing Israel as an aggressive state that only wants to "control and expand."
Aoun also said that Israel's defeat in the 34-day war, which resulted in the death of 1,200 Lebanese, mostly civilians, and 160 Israelis, mostly soldiers, would remain in Israeli consciousness for a long time, and ruled out the possibility of any attack from Israel in the near future.
The FPM leader also said that Israel's strength has been declining since 2006. "As long as Israel has not created peace with its surroundings … 2006 marked the beginning of the collapse and you can't stop this collapse because it is really difficult to bring back morale to Israelis."
He also criticized Israel for having no intention of creating peace, adding that the Jewish state has been talking about peace for over 63 years with no results.
"There is no doubt that the Israeli people want peace because no human being can live to only fight placing [their] life at risk. But the Zionist leadership is thinking of something else [other than peace]. This is why they talk about peace but they really don't want to achieve it," Aoun added.
Aoun's comments come amid escalating tensions between the March 14 coalition and the March 8 alliance over Hezbollah's weapons. March 14 has repeatedly demanded that Hezbollah surrender their weapons to the state and that a national dialogue be restarted to discuss only the issue of the party's arsenal.
However, Hezbollah Saturday announced that the issue of its arms was not up for discussion if the national dialogue committee is to resume its work, as President Michel Suleiman has requested.
The Daily Star, Naharnet