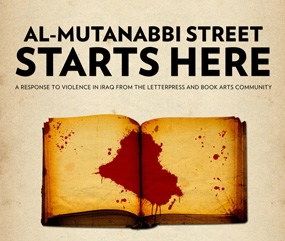 By Michele Langevine Leiby,
Book lovers automatically recognize the sound: the soft scrape of a turning page. The familiar rustle is so universal that even in bookstores in Saddam Hussein's Iraq — around the open-air bookstalls and cafes that lined Baghdad's Al-Mutanabbi Street — it was white noise. In the spring of 2007, students, scholars, intellectuals and ordinary people browsed the mass of shelves crammed with the tomes of extremist clerics, side by side with Marxist manifestos and Western political texts.
Named after a 10th-century poet, Al-Mutanabbi Street was the capital's cultural and literary center. On March 5, 2007, a suicide bomber detonated a car, killing 30 people and wounding 100 others.
Now at the Corcoran College of Art + Design, "Al-Mutanabbi Street Starts Here" is a collection of 130 broadsides – unframed letterpress prints and posters containing artwork and poetry — created by artists worldwide in solidarity with the victims. The exhibition is on a worldwide tour, and its proceeds will benefit Doctors Without Borders. After the tour, the broadsides will be donated to Iraq's National Library in Baghdad.
Azar Nafisi, author of "Reading Lolita in Tehran: A Memoir in Books" and a visiting fellow at the Johns Hopkins School of Advanced International Studies, gave a lecture in conjunction with the exhibit; in a conversation, she shared her thoughts on why books and art are important in resisting political oppression:
"Who talks about Iraq these days? If you go back to 2003, everywhere you looked, everywhere you went, there was Iraq. But Iraq was not represented because it is an ancient civilization whose origin is lost in time, or because it was once called Mesopotamia and was the cradle of the world's civilization. Or because its people, like the rest of us, fall in love, fall out of love, suffer. It was mainly known in terms of Saddam Hussein and weapons of mass destruction.
"We are still responsible for what happened over there, and the best way to make people both remember and empathize is through art. I don't see any other way of expressing this universality than through art.
"Not all of us can go to Iraq and be there and experience what the people experienced. But these broadsides bring back that experience. But I think they also let the Iraqi people know that we haven't forgotten them. Honest to God, it really breaks my heart the way we have forgotten Iraq.
"I think that it does two things at the same time. First of all, even if we didn't have wars and violence, life is so transient. We all die; every moment dies. And I think that art and literature and music, they are all statements against death. They are the only way that we resist and we say that this is conclusive evidence that we have lived.
"The other aspect of it is something more universal: That in celebrating those lives that were gone, that street that was destroyed, we are also celebrating life.
"And one other thing is very important: That if we connect to the world even in our policies, if we connect to the world, not just in a utilitarian way but understand the people and their history and their culture, I think we will be much more generous. . . . When we think of Egypt, or when we think of Rwanda, or when we think of Sudan, we need to pay attention to it before violence happens. So I hope that people seeing these will go back to Iraq's real history and culture, and I hope that they will try to understand about Iran or about Turkey or about Egypt or about Sudan through their history rather than through politics of the moment. . . .
"Only in art, only through imagination, do we all genuinely become equal. Because the emphasis is not just on how different we are but also on how similar we are, the fact that we're all human, and the fact that we all share this universal space. And once you understand the Iraqi mother who loses her child grieves over it in the same manner that an American woman does, you can't help but be present."
"Al-Mutanabbi Street Starts Here" exhibition on view until July 31 at Corcoran Gallery of Art and College of Art + Design, 500 17th St. NW, 202-639-1700.