Another huge fire involving plastics in Lebanon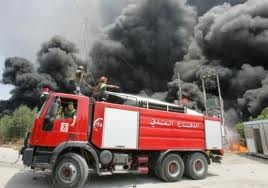 A huge fire erupted at a large plastics warehouse in the Beirut southern suburb of Ouzai, but the Lebanese civil defense team was able to extinguish it and investigation has started to determine the cause of the fire.
The warehouse is near Rafik Hariri international airport , Lebanon's only international airport
The fire caused heavy material damage but no casualties were reported .
The warehouse which is owned by Ali Hammoud sells plastic crates used for packing vegetables throughout the country.
This is the second fire involving plastics in one week. A huge fire erupted last Sunday night at the General packaging Industries (GPI) plastic factory which is located in the town of Mazraat Yachouch in Bikfaya area of the Metn region. Large sections of the plant which is reportedly owned by Tourism Minister Fadi Abboud, were destroyed.