Freeing the Estonians: The French did it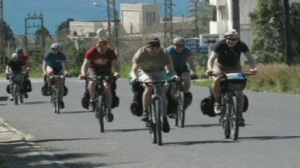 There is always a hero behind behind the freeing of any hostages and in the case of the seven Estonian tourists it was a  French general specialized in anti-terror operations that  headed the team that won their  release after 113 days of abduction Ad-Diyar newspaper reported on Sunday.
Ad-Diyar said that the general  who headed the team from the Direction Centrale du Renseignement Interieur (D.C.R.I) is a member of the French intelligence and expert in Lebanese affairs
The Estonian cyclists were released in the Bekaa town of al-Taybeh, Ad-Diyar reported.
The Estonian men, in their 30s and early 40s, were freed last Thursday morning after a kidnap ordeal of almost four months. They were abducted at gunpoint on March 23 while on a cycling holiday in Lebanon's eastern Bekaa Valley, after arriving from neighboring Syria.
The case of the kidnapping remains a mystery and the local media has said that top Lebanese officials weren't aware of the operation and only knew about it the last minute, but Interior Minister Marwan Charbel defended the Lebanese role on Sunday.
"The fact that no information about the case of the seven Estonians was made public does not mean that the Lebanese security forces did not know what happened or that the state did not have anything to do with the matter," said Charbel
"We followed up on the issue from the beginning, and we were providing western security forces with information about the location where the Estonians were taken. However, we committed to the Estonian intelligence requests in order not to obstruct the release operation " he added.
Charbel told Al-Balad newspaper that "nine people were arrested and seven are being pursued," adding that "most of these people bear the Lebanese nationality and one of them is Syrian."
Ad-Diyar also reported that the French general had worked as an investigator into the assassination of the military attache at the French Embassy Col. Christian Gouttierre near the French mission's building in the Beirut suburb of Mar Taqla in 1986.
The French ambassador in Lebanon praised the cooperation of Lebanese security forces and the coordination between Estonia and Lebanon and France's role, following the release of the hostages.
The issue of the Estonian tourists will be with us for a long time , according to a local observer who called it "Estoniagate ", a possible reference to the Watergate scandal