Alloush: Either Safadi didn't hear or didn't understand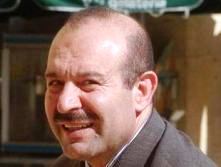 March 14 official Mustafa Alloush said in an interview with "Future News" on Wednesday that the response of Finance Minister Mohammad Safadi to former PM Saad Hariri was weak and a far cry from Hariri's statements denying that former PM incited any sectarian feelings.
"Hariri did not address any sectarian issues " he said and added: "Either Safadi did not hear or did not understand what former PM Hariri had to say ."
Safadi issued a statement Wednesday criticizing Hariri for his Tuesday night interview with MTV accusing him of inciting sectarian feeling and of distorting the truth.
"He did not have to stimulate sectarian feelings against Prime Minister Najib Mikati and me." Safadi said
"Hariri is distorting the truth in the name of finding the truth," he added in reference to the former PM's Tuesday interview
Both Safadi and Mikati were allied with Hariri in the 2009 elections and were elected by march 14 voters. They both defected when Mikati was nominated by the Iranian and Syrian backed Hezbollah to be the PM designate.
Based on Ya Libnan records Alloush is right. Hariri did not mention once the religious affiliation of Mikati and Safadi when he criticized them. Hariri criticized them for "betraying" him , their lack of commitment to the Tribunal ( STL) and for allying themselves with Hezbollah.
The former PM said Tuesday night :
– I want to ask Minister of Finance Mohammad Safadi who backed Mikati , what did March 14 do to you?
– Is Mikati's vow to commit to the STL written down clearly in his government's Ministerial Statement?
– When I said that on March 13 that I was betrayed, I was honestly referring to Safadi and Mikati and actually Lebanon and the Lebanese people were betrayed.
– The most important thing for me is honesty. I do not have a personal problem with Mikati, but today the current cabinet is that of Hezbollah and carries out the project of the party , and Mikati is the head of the government.
– When we were allied with Mikati in Tripoli [during the 2009 parliamentary elections], did we ally on the basis that we want the truth in Rafik Hariri's murder 'in principal' ? A possible reference to the wording of the ministerial statement about the cabinet's ' in principal' commitment to STL
– "The decision to bring down Saad Hariri from the premiership was made by two people: Nasrallah and Syrian President Bashar al-Assad. Mikati is only serving as a tool."